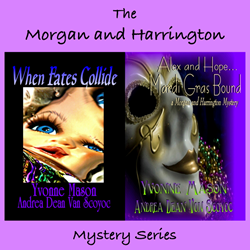 One of the most tongue-in-cheek and hilarious mystery series ever written!
Evergreen, Colorado (PRWEB) June 30, 2014
Beginning with "When Fates Collide" and "Mardi Gras Bound", the writing team of Yvonne Mason and Andrea Dean Van Scoyoc partnered with Brook Forest Voices (BFV) to publish the entire "When Fates Collide" series as audiobooks. This will be the fourth collaboration with BFV. Previous titles included: "A Voice From the Grave", "Dream Catcher" and "The Pink Canary".
The "When Fates Collide" series revolves around a cynical, sarcastic female Bounty Hunter named Alex Morgan and Hope Harrington a downtrodden, mousey secretary who meet when Alex mistakes Hope as the "jumper" she's in hot pursuit of and slaps the cuffs on. After this zany encounter the two collude with the result being one of the most tongue-in-cheek and hilarious mysteries written.
The collaboration of Yvonne and Andrea is just as unlikely. While they are kindred spirits they reside on opposite coasts in Florida. Consequently they've chosen to write from the first person perspective, allowing each to lend their unique personality to the characters.
Production of "When Fates Collide" is scheduled to begin in August with release scheduled for November 2014. "Mardi Gras Bound" is set for release in December. Both audiobooks will be available through all of BFV's distribution channels.
About Brook Forest Voices: a complete audio production studio located just west of Denver in Evergreen, CO, specializing in audiobook narration, production and publishing. BFV is designed to help large and small publishers, as well as authors, with all their audio needs. Publishers and authors wanting to learn more can visit http://www.brookforestvoices.com or contact Jaime Andrade, BFV Business Manager at 303-670-4145.