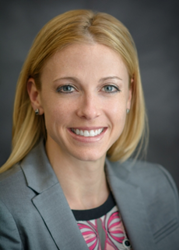 Colleges and universities should work to ensure they will be in compliance with the new standards, which could be in force as early as the Spring 2015 semester
Philadelphia, PA (PRWEB) June 30, 2014
Colleges and universities in Pennsylvania and elsewhere will likely face increased federal reporting and other requirements designed to help curb on-campus assaults, says Carmon Harvey, a shareholder in national law firm LeClairRyan's Philadelphia office. Higher education institutions that have recently come under scrutiny for the way they handle sexual assault and other cases should look to the new rules proposed by the U.S. Department of Education to help guide them out of hot water, she adds.
"The revised regulations come at a time when the issue of campus sexual assault complaints is in the public eye, and educational institutions are being pressed to change the way they handle the reporting and resolution of such incidents," explains Harvey, who focuses her practice on higher education as well as on employment litigation and counseling, splitting her time between LeClairRyan's Philadelphia and Newark, N.J. offices. "The Obama administration recently released the names of 55 colleges and universities, including Penn State, that are under investigation for the way they handle sexual assault complaints."
The draft regulations, which would amend the campus-crime law known as the Clery Act, are open for public comment through July 21 and will likely be signed into law before the end of the year, she adds. Among other provisions, the rules would definitively enable students who report incidents—as well as the accused—to have a lawyer or other advisor present during campus disciplinary proceedings.
"Assuming that colleges and universities are careful not to allow lawyer-advisors to interfere with the process, this may actually provide them with a degree of protection, since an increasing number of students who were accused of assault have sued schools, claiming they were denied due process or were otherwise treated unfairly during the proceedings," Harvey says.
The proposed rules also clear up some grey areas by explicitly including within the reporting requirements new categories of dating violence, domestic violence, and stalking, which may have previously gone underreported, she adds. "They also include an updated, more inclusive definition of rape based on Federal Bureau of Investigation standards," says Harvey. "The new rules additionally provide greater protection for the confidentiality of victims and address prevention programs and awareness campaigns that colleges will be required to offer."
"Colleges and universities should work to ensure they will be in compliance with the new standards, which could be in force as early as the Spring 2015 semester," Harvey advises. "Educational institutions may wish to immediately begin developing and updating training programs for its employees and students regarding sexual assault, including training of security personnel who will be responsible for compiling crime statistics under the Clery Act. This training should clearly explain the newly-defined categories of rape, dating violence, domestic violence, and stalking. The institutions should also start updating student policies to reflect the definitions that will be set forth in the regulations."
Additionally, colleges and universities should take steps to document their training, information gathering and other activities, Harvey suggests. "Leave no doubt for the Department of Education that you are taking steps to implement the new rules and to remain compliant with them."
About LeClairRyan
As a trusted advisor, LeClairRyan provides business counsel and client representation in corporate law and litigation. In this role, the firm applies its knowledge, insight and skill to help clients achieve their business objectives while managing and minimizing their legal risks, difficulties and expenses. With offices in California, Colorado, Connecticut, Maryland, Massachusetts, Michigan, New Jersey, New York, Pennsylvania, Virginia and Washington, D.C., the firm has approximately 350 attorneys representing a wide variety of clients throughout the nation. For more information about LeClairRyan, visit http://www.leclairryan.com.
Press Contacts: At Parness & Associates Public Relations, Marty Gitlin (631) 765-8519, durangitlin(at)optonline(dot)net or Bill Parness, (732) 290-0121, bparness(at)parnesspr(dot)com