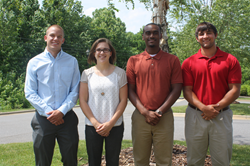 Statesville, NC (PRWEB) June 27, 2014
Vance C. Dalton, Jr., CEO of Carolina Farm Credit, is pleased to announce that four new summer interns recently joined the Association at the Carthage, Hendersonville, Salisbury, and Wilkesboro branches.
Keshawn McDaniel is a graduate student at North Carolina A&T University. McDaniel holds a bachelor's degree in agriculture education from NC A&T and has held several internships at organizations including the USDA, Winston-Salem Cooperative Extension, and 4-H Robotics Camp. He is originally from Farimont and currently lives in Greensboro. In his spare time he enjoys cooking, traveling, sports, mentoring, and attends Mill Branch Baptist Church in Fairmont. McDaniel is an intern in the Salisbury and Concord branches.
Alexandra "Alex" Stott is a student at North Carolina State University, majoring in agriculture business management and minoring in economics. Stott is from Polk County, NC where she started her own poultry operation raising chickens and selling local free range eggs. When she is not busy with school, she enjoys being outside, spending time with her family and traveling. Stott is an intern at the Hendersonville and Spindale branches.
Trey Waugh is a senior at Appalachian State University and is majoring in finance and minoring in health management. Waugh is from Stony Point where he grew up working on his family's cattle farm. In his free time he enjoys sports and works as a little league referee. He attends Beaulah Baptist Church while at home and Mount Vernon Church while in Boone. Waugh is an intern at the Wilkesboro and Yadkinville branches.
Kyle Williamson is a senior at North Carolina State University, majoring in agriculture business management. He is from Asheboro where he grew up on a cattle and poultry farm. In his free time he enjoys hunting, fishing at the lake, and working out. Williamson is an appraisal intern at the Carthage branch.
The interns will be working on several projects during their time at Carolina Farm Credit including developing prospect lists and networking at local farmers markets. They will also be blogging about their experiences. Visit carolinafarmcreditblog.com to read their blogs.
Carolina Farm Credit is a stockholder-owned cooperative providing financing to full and part-time farmers and agricultural-related businesses and also provides financing for the construction and purchase of homes in 54 counties through 36 branch offices. Other financial services available are credit life insurance, crop insurance, appraisal services, leasing programs and financial planning.
Carolina Farm Credit serves over 9,000 members with loans outstanding totaling more than $1.4 billion. The association's territory covers the western half of North Carolina, with branch offices located in Albemarle, Asheboro, Asheville, Boone, Browns Summit, Burnsville, Carthage, Concord, Conover, Ellerbe, Graham, Hendersonville, Hillsborough, Jefferson, Lenoir, Lexington, Lincolnton, Marshall, Mocksville, Monroe, Murphy, Pilot Mountain, Roxboro, Rural Hall, Salisbury, Shelby, Siler City, Sparta, Spindale, Statesville, Taylorsville, Wadesboro, Waynesville, Wilkesboro, Yadkinville, and Yanceyville.
Carolina Farm Credit was recognized as a 2013 Best Employer in North Carolina. The list of the Best Employers in North Carolina was created by Business North Carolina, the Society for Human Resource Management (SHRM) – NC State Council and Best Companies Group.
Directors for Carolina Farm Credit are Mark A. Bray, Chairman, Lawsonville; L. Kim Starnes, Vice-Chairman, Salisbury; John M. Barnard, Statesville; E. Bernard Beck, Seagrove; W. Rex Bell, Statesville; David M. Coltrane, Pleasant Garden; Susie J. Gambill, Sparta; Joseph A. Lail, Shelby; W. Steve Love, Graham; Bobby J. "Bud" Matthews, East Bend; Clark M. Newlin, Haw River; Thomas E. Porter, Jr., Concord; Tony L. Ragan, Sanford; D. Kaleb Rathbone, Waynesville; Lewis E. Smith, Lincolnton; Vickie N. Smitherman, East Bend; Dr. Alton Thompson, Summerfield.