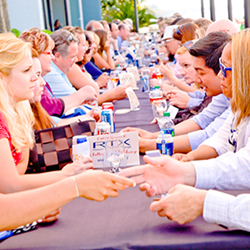 Orlando, FL (PRWEB) June 30, 2014
Resort Travel & Xchange (RTX) sponsored a speed networking event at the C.A.R.E.'s 58th semiannual conference, held May 3-5, 2014 in Destin, FL at the Sandestin Golf and Beach Resort.
About 100 people attended the Cooperative Association of Resort Exchangers (C.A.R.E.) event, which took place midway through the conference on May 4, and participants had two minutes to network one-on-one with other attendees, which included representatives of resorts, travel companies, exchange companies, developers, travel agencies and resort service providers.
"We are pleased to be able to sponsor such a vital part of the C.A.R.E. conference," says Corina Violette, director of resort partnerships for RTX. "These semiannual meetings are a great place to get face to face with other shared-ownership professionals and a key part of the timeshare industry's calendar."
C.A.R.E. is a trade association established in 1985 by representatives of timeshare resorts. C.A.R.E. provides a networking platform that offers the tools for individual business enhancement while requiring its member companies to adhere to its code of standards and ethics. C.A.R.E. member companies currently offer 2,500 vacation properties and service approximately one million vacation owners and members. C.A.R.E. is an international organization, with members throughout the United States, Canada, Mexico, Europe and Australia.
The speed networking event was the favorite event at the conference based on participant feedback. In fact, it was so successful that RTX is going to sponsor a similar event at the fall C.A.R.E. conference, which is to be held October 18-21 in Seattle, Washington at the Renaissance Seattle Hotel.
"Networking is certainly an important aspect of timeshare conferences, especially when you consider the value of new partnerships and affiliations," says RTX's Violette. "As a rapidly growing exchange company, we know firsthand the value of being able to explain how your company's unique position in the industry can benefit another organization. Give me two minutes and I'll make you a believer," she states.
"We're proud to be able to facilitate an event that not only is extremely beneficial to attendees, but also is quite enjoyable in the process," Violette continues. "And we look forward to doing it again at C.A.R.E.'s fall conference."
About RTX
Resort Travel & Xchange (RTX) is a timeshare and vacation ownership exchange company based in Asheville, N.C. RTX works with a number of resorts and developers throughout the world to provide the best exchange options possible to its members. In addition to exchange services, RTX offers a number of travel benefits to members such as trip protection, rebates, travel discounts and more. RTX has approximately 60,000 members.