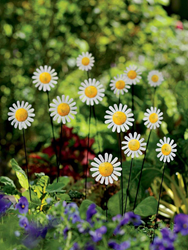 Milwaukee, WI (PRWEB) June 27, 2014
Summer is filled with parties, gatherings, picnics and more. We all want to make these occasions special and memorable for our guests.
"Many gardeners tend to schedule events around peak bloom or harvest in order to share the beauty and flavor from their garden," explained gardening expert Melinda Myers. "Unfortunately nature does not always cooperate. It seems we are always saying 'you should have been here last week' or 'come back next week when the flowers will be at their peak'."
Myers said there's no need to worry and shared these ideas for making sure garden parties go off without a hitch.
It may be considered cheating by the purist, but isn't it all about creating a great space and event for guests? Consider adding some fun flower accents. Metal flower sculptures like daisy bouquet stakes, hollyhock stem stakes or aluminum fiddleheads insure color throughout the season.
Or make it fun with faucet handle flowers (gardeners.com), which are sure to spark some conversation amongst the guests.
Add some extra color with a bit of floral paint. Use garden colors to paint seedheads of flowers past their prime. Just cover the stem and leaves to insure only the seedheads get painted for a more realistic look. It might fool the guests or give them a good idea for their own garden.
Or stop by a local garden center. Many have flowering planters and large size annuals that can be used to fill in voids and add color to the garden.
Pot a few of these up and use them as centerpieces on the tables. A search of the garage or visit to a thrift store may find reasonably priced fun items that can be converted into containers.
Keep guests comfortable and the mosquitoes at bay with the gentle breeze of a fan. Mosquitoes are weak fliers and the gentle breeze of a fan can keep them away. Or step it up with the help of geranium oil. It's natural, fragrant and can help repel mosquitoes.
And be sure to include fresh-from-the-garden flavor in beverages and dishes. A pot of basil or mint near the party means guests can flavor their own lemonade tea or mojito. The hollow stem of lovage, cut down to size makes a great straw for tomato juice or a bloody Mary. Guests won't forget the fun of sipping their drink through this celery-flavored straw.
Then add some color and a gourmet touch to salads with a few edible flowers. Nasturiums, roses and calendulas are just a few to consider. Just be sure they are edible and pesticide-free before serving them to guests.
Use fresh-from-the-garden or container herbs for grilling, salads and the main course. And consider drying a few herbs or starting cuttings from plants in the garden to use as party favors.
Don't let the sunset put an end to the celebration. Light up the evening with solar illuminated planters, solar pathway lighting and decorative fiber optic lights. Or go old school and set votive candles in a mason jar or tucked safely in the garden.
So set aside some time to take a walk through the garden and plan a party or two for family and friends to enjoy its beauty this season.
Gardening expert, TV/radio host, author & columnist Melinda Myers has more than 30 years of horticulture experience and has written over 20 gardening books, including Can't Miss Small Space Gardening and the Midwest Gardener's Handbook. She hosts The Great Courses "How to Grow Anything" DVD series and the nationally syndicated Melinda's Garden Moment segments. Myers is also a columnist and contributing editor for Birds & Blooms magazine. Myers' web site, http://www.melindamyers.com, offers gardening videos and tips.