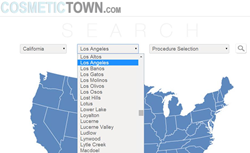 Los Angeles, CA (PRWEB) June 27, 2014
Cosmetic Town Journal, a consumer advocate site which provides users with essential information about popular cosmetic treatments, has invited top rated Los Angeles cosmetic surgeons to present original peer reviewed articles. These doctors have been selected for their ability to inform and interact with prospective patients looking for the most reliable information presented in a way they can understand. Cosmetic Town Journal's Los Angeles Plastic Surgeons have demonstrated quality results using multiple procedures, and are well known for inventing or popularizing advanced techniques in cosmetic surgery.
One of the featured doctors believes that speaking directly to what the users are most concerned about is the best approach, "A lot of sites that cater to general users do not use proper evidence or statistical data to support their claims. What attracted me to Cosmetic Town was its goal of using the same methodology for academic presentations for articles meant to be consumed by the general public. I find it valuable that users are getting the best information from the source without any hidden agenda."
Los Angeles is considered the hub of plastic surgery, with the most preeminent surgeons in the world practicing in such cities as Beverly Hills and Orange County. A lot of key research has originated in the greater Los Angeles area, and some of the most successful clinical trials are being conducted there at the present time.
In addition to articles about popular and groundbreaking cosmetic treatments, these top surgeons can feature detailed videos and before and after pictures. Doctors can also interact with patients and other doctors in the forum. These tools and more have made it easier than ever for doctors to connect with patients.
About Cosmetic Town
Cosmetic Town is the only cosmetic industry site which authenticates both doctors and real patients. The site features doctors that have been carefully reviewed and endorsed by their peers making it easy for users to find the most qualified and highly recommended cosmetic doctors in their area. Users can also read about the latest news in plastic surgery, anti aging treatment, hair restoration, cosmetic dentistry, and facial and body modification at Cosmetic Town Journal.