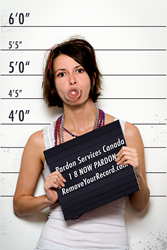 ...be mindful of the good conduct requirement...
(PRWEB) June 30, 2014
A criminal record won't be removed unless an application is made under the Criminal Records Act of Canada, for a record suspension (previously known as a Pardon). The Act is meant to help people with past offences that are now rehabilitated, to have a fresh start. If you need a record suspension, you will benefit from these tips from the experts at Pardon Services Canada.
1. Make sure you pay any fines and restitution as soon as possible. These types of payments as well as any probation period must be completed before the required waiting period can begin.
2. The waiting period is 5 years for summary offenses and 10 years for indictable offences, with the waiting period starting at the time all sentence requirements are completed.
3. During the waiting period, be mindful of the good conduct requirement. Under the Criminal Records Act, good conduct is defined as behavior that is consistent with and demonstrates a law-abiding lifestyle.
4. Traffic violations such as speeding or driving without having your driver's license with you, or other misconduct such as public drunkenness, can result in the Parole Board of Canada (PBC) proposing to deny a record suspension.
5. Even if charges are later dropped, the fact that the charges were laid can still result in a proposal to deny from the PBC.
6. A proposal to deny does not mean your record suspension has been denied. You still have the possibility of obtaining a record suspension, but you must make further representations to prove your good conduct. Pardon Services Canada has a Proposal To Deny service to support clients in proceeding with the record suspension process.
7. The length of time it takes for a record suspension is largely affected by how quickly the courts and police are able to respond to requests for the required documents.
8. Since this process can take approximately 6 – 10 months, applying before you are eligible can ensure your application is ready as soon as your eligibility date arrives.
9. If an individual needs a record suspension to be able to pass a criminal record check for an upcoming job opportunity, Pardon Services Canada can provide clients with a letter stating that the record suspension is in progress.
10. When choosing a company to assist you with a record suspension, check to see how many years they have been in business, their track record of success, and since they are dealing with sensitive information, make sure they are RCMP accredited too.
About Pardon Services Canada
An industry leader in helping Canadians overcome the obstacles of a criminal record. Since 1989, Pardon Services Canada has successfully assisted over 100,000 Canadians exercise their lawful rights under the Criminal Records Act of Canada, and the Immigration and Nationality Act of the United States. Services include US Entry Waivers, Record Suspensions (formerly called pardons), and fingerprinting. Offices are located in Vancouver, Calgary, Toronto, Edmonton, Ottawa and Montreal. Call toll free 1-866-972-7366 or visit the website Pardon Services Canada