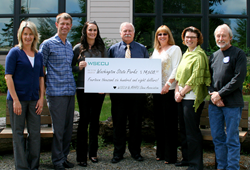 'Owning an RV wouldn't nearly be as fun if you couldn't spend time in our state parks. They're incredible!' says Dave Helgeson, MHRV Show Director. 'But we're in danger of losing some of them.'
Olympia, WA (PRWEB) June 29, 2014
The mission of the the MHRV Association is to promote the RV lifestyle --"Creating lifetime memories with family and friends." WSECU is a community credit union that, "serves people who share the values of giving, sharing and supporting our communities." The message of the Washington State Parks is "Adventure Awaits". Together, these three Washington institutions have teamed up in 2014 to offer joy, opportunity and discovery to everyone in the state.
"Owning an RV wouldn't nearly be as fun if you couldn't spend time in our state parks. They're incredible!" says Dave Helgeson, MHRV show director. "But we're in danger of losing some of them. Some 40 Washington State Parks are at risk of closure due to massive budget cuts so we felt we needed to help in some way." Helgeson adds, "The MHRV hosted two very successful RV shows so far in 2014 and for the second straight year, we're donating a portion of both gates to the state parks. This year, our primary partner and sponsor, WSECU, has joined with us and is matching every dollar we're donating. This year's donation totals $14,608. We are extremely proud and grateful."
During both MHRV Shows (Seattle and Puyallup) held in Feburary and May, some of the money collected at the box office was earmarked to be donated to Washington State Parks. "We're so lucky to live in such a beautiful part of the world and our state parks are a treasure for everyone to enjoy," states Helgeson.
The MHRV (Manufactured Home Recreational Vehicle) Association consists of manufacturers, dealers and vendor member organizations with an all-volunteer Board of Directors. The majority of funds collected go directly toward advertising and promotion of the shows. In 2014, one dollar from every non-discounted adult and senior ticket sold at the box office at The Seattle & Puyallup RV Shows was donated to assist Washington State Parks. The MHRV was created for the express purpose of promoting the RV and manufactured home industries. Two major consumer shows are produced each year to support this effort: The Seattle RV Show (in February) and The Puyallup RV Show (in May) The two shows attract over 25,000 consumers each year. Click MHRVShows.com for more information.
WSECU was founded by a small group of Washington State employees in 1957. Today they are a financial institution that welcomes and serves people who share the values of giving, sharing and supporting their communities. WSECU is a community credit union offering membership to anyone in Washington, with a special focus on public employees and other individuals who work to improve their communities.