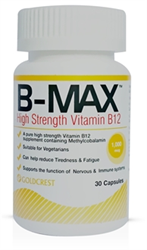 (PRWEB UK) 29 June 2014
New research has discovered a previously unknown role for vitamin B12 in the regulation of bone synthesis. The study published in The Journal of Clinical Investigation looked at the role of B12 in bone mass accretion. In this study, offspring deficient in Gastric Intrinsic Factor which is essential to absorb vitamin B12 has severely reduced bone mass. Supplementing vitamin B12 to restore normal levels during development was enough to prevent the stunted growth that would have been expected to be seen and restore normal growth (http://www.jci.org/articles/view/72606).
Further investigation into the pathways of action revealed that taurine production in the liver is involved. When vitamin B12 was restored to normal, taurine synthesis in the liver increased back to normal levels which increased bone synthesis. Without the queue of vitamin B12 at normal levels, taurine levels did not rise and bone mass remained severely reduced.
Bone is formed primarily of calcium containing hydroxyapetite crystals which is deposited by bone forming cells (osteoblasts). Bone mass is dynamically maintained by continual bone deposition by osteoblasts and bone break-down by osteoclast cells (bone degrading cells). Detailed histological study revealed that the vitamin B12 deficient individuals had half the number of osteblasts (bone forming cells) but normal numbers of osteoclasts (bone degrading cells).
This discovery is particularly important because it represents a biological pathway that could potentially be a new target for treatment of bone related diseases including osteoporosis. Supplementing vitamin B12 could aid the 2 million people in the UK diagnosed with osteporosis (http://www.nos.org.uk/page.aspx?pid=328). Additionally, supplementing Vitamin B12 could help to strengthen bones and reduce the number of osteoporosis-related events which cost the NHS £2.3 billion every year.
The major composite of bone is well known to be calcium and hence it has always been the most popular supplement to promote bone health. Additionally, as vitamin D is essential for the absorption of calcium into the body, it is an equally important and popular supplement to improve and strengthen bones. Vitamin Planet provides high strength calcium supplements (http://www.vitaminplanet.co.uk/calcium-with-d3-500mg-200iu-p-177932.aspx) as well as pharmaceutical grade high strength vitamin D supplement D-MAX (http://www.vitaminplanet.co.uk/d-max-vitamin-d3-5000iu-p-178051.aspx) which have been specifically developed to provide a high dose of bioavailable vitamin D3.
The novel mechanisms regulating bone mass discovered in this scientific paper has also meant that Vitamin B12 is quickly becoming a popular supplement to support bone health. Senior Nutritionist at Vitamin Planet Sophie Stamford has commented, "In light of the recently published papers highlighting the importance of vitamin B12 in helping to increase bone mass, our superior quality, highly bioavailable vitmamin B12 supplement, B-MAX is the top choice bone health supplement." B-MAX (http://www.vitaminplanet.co.uk/b-max-vitamin-methylcobalamin-b12-1000mcg-p-178055.aspx) is a pharmaceutical grade vitamin B12 supplement that is currently available on Vitamin Planet's website.