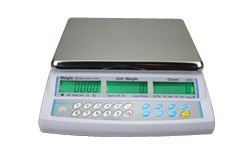 CBD scales take inventory, packaging and processing to a higher level of efficiency, resulting in improved productivity.
Danbury, CT (PRWEB) June 30, 2014
Adam Equipment is pleased to announce a new solution for large-volume counting applications. The CBD bench counting scale is now available in a package bundle, combining the scale with a variety of platforms to increase counting capacities and capabilities. This allows industrial users to save money and increase productivity, as it eliminates the need to purchase additional bench scales.
The new cost-efficient package bundle consists of the CBD, with a choice of bases, including the GF, GB, PT and PTM. Available in a selection of sizes, the bases offer features such as stainless steel pans, non-slip adjustable leveling feet and overload protection.
The CBD is an adept and efficient counting scale, fully capable of powering a remote base with up to four load cells. Users can weigh smaller samples on the local scale and then connect to the remote to assess bulk items. This takes inventory, packaging and processing to a higher level of efficiency, resulting in improved productivity in many business and manufacturing settings, according to Tom Storey, director of marketing with Adam Equipment.
"Readings from the additional remote base are shown on the CBD, which displays the total count. This provides better accuracy, especially when you're counting greater quantities of smaller parts," Mr. Storey said. "Also, the single display makes it easier for one worker to weigh and count a larger number of items, eliminating the need for an extra person to operate a separate scale, and keeps the user from having to monitor two devices," he added.
CBD models now offer capacities ranging from 8lb/4,000g up to 100lb/48kg, with readabilities ranging from 0.0002lb/0.1g to 0.005lb/2g.

Optional USB port provides connectivity options, simplifying data communication and information collection
Standard RS-232 interface
Rapid recall of frequently counted items with 100 built-in PLUs and text storage
Adam Equipment's family of counting scales provides a full range of products for quick and easy counting, and includes the CBD, CBC and CBK bench scales. Floor scales with counting function include the ABK, AFK, GBK, GBC, GFC, GFK and the Warrior.
About Adam Equipment
For more than 40 years, Adam Equipment has designed and manufactured precision balances and scales for professionals worldwide in the laboratory, medical, education, industrial, food, animal/veterinary and jewelry markets. Adam is committed to offering an extensive selection of weighing equipment with best-in-class value. Headquartered in the United Kingdom, the company has strategically established offices in the United States, South Africa, Australia and China to provide product support and speedy delivery to distributors. For more information about the company and its products, go to http://www.adamequipment.com.