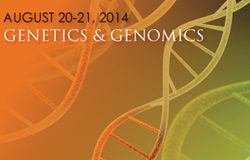 Yorba Linda, CA (PRWEB) June 30, 2014
One of the biggest advantages of attending conferences is the ability to network with other's in your field, especially speakers. BioConference Live Genetics and Genomics offers this on an even greater scale. The largest producer of online-only conferences focused on life sciences and clinical diagnostics, has announced their Annual Genetics and Genomics Virtual Conference will take place August 20-12, 2014. The one-of-a-kind global web-based conference will be conducted through live video webcasts and real-time networking. The benefit of online connections is important to many in the life sciences community who are seeking alternatives to customary (often expensive and time consuming) physical conferences and ways to earn free continuing education credits.
This year, topics for the conference include RNAi, Next-generation sequencing, Cancer research, Sequencing, Genome-wide association studies GWAS, Epigenetics, Mapping, Exomes, Genomic medicine, Human Genome Structural Variation, Pharmacogenetics, DNA/RNA Purification, Mutations, Translational Genomics, Bioinformatics, Genotyping, Pharmacogenomics, Screening, Cloning, Gene Expression, Phenotyping, Transcription, Functional Genomics, Synthetic Biology, Genome Engineering, Immunology, qPCR/Real-Time PCR, PCR, Biomarkers, Stem Cell research, Human Identification, Bioproduction, Molecular Diagnostics and much more.
BioConference Live Genetics and Genomics will feature presentations from:

Robert Nussbaum, MD - Professor, Department of Medicine, Chief, Division of Medical Genetics, UC San Francisco
Matthew Keyser, MS - Next-Gen Application Scientist, DNASTAR
Christopher I Amos, PhD - Associate Director for Population Sciences, Professor of Community and Family Medicine at the Geisel School of Medicine, Norris Cotton Cancer Center, Dartmouth College
Shawn Baker, PhD - CEO, CSO and Co-Founder, AllSeq, Inc.
Dani Bercovich, PhD - Professor, Scientific Director, Head of MSc program in Biotechnology, Tel Hai College, GGA - Galil Genetic Analysis
Kenneth Buetow, PhD, FACMI - Director of Computational Sciences and Informatics program for Complex Adaptive Systems
Piero Carninci, PhD - Director, Division of Genomic Technologies, RIKEN Center for Life Science Technologies
John Glass, PhD - Senior Scientist, Synthetic Biology Group, J. Craig Venter Institution
Cecile Janssens, PhD -Research Professor of Epidemiology, Emory University
Michael C Jewett, PhD - Assistant Professor of Chemical and Biological Engineering, Northwestern University
Bruce R Korf, MD, PhD - Wayne H. and Sara Crews Finley Chair of Medical Genetics, Professor and Chair, Department of Genetics, Director, Heflin Center for Genomic Sciences, University of Alabama at Birmingham
Jimmy Lin, MD, PhD, MHS - Founder & President, Rare Genomics Institute, School Faculty Member, Washington University St. Louis
Jessica C Mar, PhD - Assistant Professor, Department of Systems & Computational Biology, Assistant Professor, Department of Epidemiology & Population Health, Albert Einstein College of Medicine
Yue Wan, PhD - GIS fellow, Genome Institute of Singapore, A*STAR, Genome Institute of Singapore
Feng Zhang, PhD - Core Faculty Member, The Broad Institute of MIT/Harvard, Investigator, McGovern Institute for Brain Research, W.M. Keck Career Development Professor of Biomedical Engineering Assistant Professor, Department of Brain and Cognitive Sciences
And several others. A complete list of speakers is available at http://www.bioconferencelive.com.
BioConference Live virtual conferences provide invaluable educational and networking opportunities for participants. Attendees can receive free continuing education and continuing medical education credits for all conferences, as well as CEU credits for genetic counselors.
To register for a BioConference Live conference visit: http://www.bioconferencelive.com.
Parties interested in current research in genetics and genomics should sign up today, for free, to take advantage of live streaming sessions by industry leaders, networking with peers, and exploration of the virtual exhibit floor showcasing the state-of-the-art in life science and medical technologies from companies such as Thermo Scientific, Beckman Coulter, Qiagen, Roche, and Abcam.
About:
Founded in 2009, BioConference Live's vision was to connect the scientific world leveraging a unique virtual platform, discovering meaningful collaborations across geographic boundaries and fields of expertise. BioConference Live has grown into the world's largest producer of virtual events within the Life Sciences and Clinical Diagnostics community. LabRoots is the owner and producer of BioConference Live, and is the leading professional networking website designed to connect all science verticals.