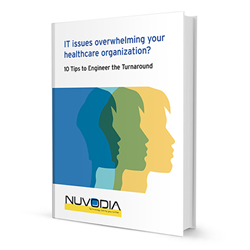 Nuvodia also announced a limited-time special offer for its popular state-of-the-art Healthcare IT Workflow Assessment.
SEATTLE, WA (PRWEB) June 30, 2014
Washington's leading healthcare Information Technology (IT) service company Nuvodia announced today the availability of its new eBook titled "Issues Overwhelming Your Healthcare Organization IT Staff? 10 Tips to Engineer the Turnaround." The eBook explains how organizations can make their IT systems and software work best together to be more efficient and increase patient satisfaction. Nuvodia also announced a limited-time special offer for its popular state-of-the-art Healthcare IT Workflow Assessment.
"Nuvodia has worked with dozens of healthcare organizations in Washington state and understands that keeping non-IT employees trained on the latest technologies, applications and processes is a major challenge and represents a significant cost," said Andrew Spottswood, Senior Technology Consultant, Nuvodia. "Whether it's taking time out for new training or absorbing the high cost of recruiting and training new personnel, there are significant costs involved with the adoption and maintenance of every update."
The eBook covers topics such as:

Managing patient portals
Backup and recovery of critical data
Network and application security
EHR application integration, and much more.
Nuvodia believes that IT services are absolutely essential for running a healthcare-related organization in today's economy. Nearly every aspect of typical daily operations involves some form of IT. Whether it's scheduling patient appointments via an online calendar, holding online conferences with satellite offices or even just sending (and archiving) staff emails, Nuvodia's eBook aims to keep IT staffs trained on the newest technologies while being able to leverage EMR (Electronic Medical Records).
Along with the free eBook offering, Nuvodia is also offering a limited-time offer for 75 percent off a Healthcare IT Workflow assessment from its expert medical information systems team (a $750 value). Nuvodia has created and implemented IT integration solutions for hundreds of healthcare-related organizations, and this experiences gives them a unique perspective and distinct advantage in understanding what it takes to make health care systems smarter, faster, more efficient and better connected.
"Our ability to offer this free eBook as well as an extremely discounted IT assessment will be beneficial to many healthcare-related organizations who may be feeling overwhelmed by their IT issues," Spottswood said. "Making sure IT workflow is effective and support staff are all on the same page is crucial, so we're happy to use our experience and expertise to assist."
About Nuvodia
Formed in 2012 by Inland Imaging, one of the nation's leading providers of professional radiology and medical technology services, Nuvodia is a technology services organization. By combining the capabilities, resources and personnel from Inland Imaging Business Associates technology division Nuvodia brings with it a decades' long legacy of providing information technology services to the health care, utility and professional services industries. Nuvodia's mission is to provide its clients with IT solutions that propel their businesses forward. It looks to enable customers' organizational excellence through innovative, results-oriented technology solutions.