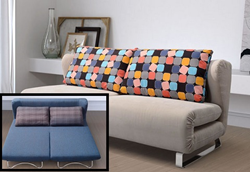 Sleek modern sleeper sofas combine the functionality of traditional futons and sleeper sofas with a look that's a little more appealing for day-to-day use.
(PRWEB) June 30, 2014
HomeThangs.com – the Online Home Improvement Store has made their goal to deliver the right product to the consumer. With that in mind, shopping and home design tips, as well as special product selections are being introduced.
One of the biggest frustrations of living in a small home, condo, or apartment is that once the day-to-day needs are taken care of, there isn't much room left for guests. Space for seating is at a premium, and spare beds are almost always out of the question. HomeThangs.com has introduced a guide to a simple solution: modern sleeper sofas and chairs, which are a bit more stylish than traditional futons and a lot more comfortable than an air mattress.
Sleek modern sleeper sofas aim to combine the functionality of traditional futons and sleeper sofas with a look that's a little more appealing for day-to-day use. Often that means an eye-catching folded shape that shows off the seat's dual functionality in a slightly sculptural way. This type of sofa is supremely functional, too, with features like cushy backrests that double as pillows when the sofa is unfolded. The relatively limited number of moving parts keeps these modern sleeper sofas lightweight, too, making them ideal for apartment living.
Lately there's been a profusion of sleeper sofas where the back of the sofa folds back and flattens out to the level of the seat cushions to create a single full or queen sized mattress. These are absolutely fantastic for a small apartment, as they often don't have arms, meaning they're a bit narrower, take up less space, and are easier to fit through doorways. They also lack the bulky hardware of many more traditional sleeper sofas, meaning they're also relatively lightweight and easy to move.
Other versions of this type of sleeper sofa that look exactly like a standard sofa, with arms on both sides and a solid base. These work the same way, with the back and seat attached to a simple folding hinge, but have the added advantage of containing quite a bit of storage space underneath the couch cushions. Even on a small sofa, there's plenty of room to store a full set of linens and pillows invisibly under the seats.
Some manufacturers have even started making sleeper-style arm chairs. Like many modern sleeper sofas, these often use the twisty folds needed to stow away the "bed" part of the chair to give the design a unique flair. That can mean they look anywhere from a tri-folded mattress to a sleek, swanky modern arm chair where the arms of the chair turn into the legs of the bed when the seat is flipped forward, and the back lays down flat to create a long twin bed.
The biggest advantage here is that chairs like this can easily and comfortably sleep one person by night, and are perfectly comfortable, functional accent chairs by day. Unlike big, bulky sofas, these chairs are small and light enough to move into another room making it possible to give guests a bit more privacy without having to place a full sized bed in a home office or dining room. Plus, since these chairs are designed to fold and unfold easily, they can conveniently be used as chaise lounges, too.
Some more creative setups involve multiple pieces of furniture. For example, a dual-folded (rather than tri-folded) chair can easily be combined with an ottoman to create a full length twin bed. Better still, ottomans with removable cushions can easily be used as full sized coffee tables, then pushed together and converted as needed, which means no extra space will be taken up by a footrest that might not get used very often.
For more ideas about sneaking a guest bed into a living room, check out the full article here.
HomeThangs.com is not only a home improvement superstore, it also provides expert design tips and a comprehensive shopping guide, taking the ideas from professional interior designers, and offering tips to the consumers on how to pick the products to best suit their needs.