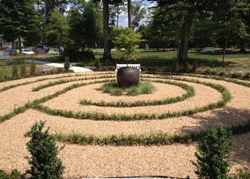 There is no right or wrong way to walk a labyrinth. You only have to enter and follow the path.
(PRWEB) June 29, 2014
Lake Prince Woods retirement community in Suffolk, VA recently dedicated a labyrinth in a newly landscaped area on the campus.
Director of Spiritual Life Rev. Dr. Woodie Rea explained that a labyrinth is often referred to as a "walking prayer". "Unlike a maze, this ancient spiritual symbol consists of one path that winds and weaves its way through various turns," he noted.
"There is no right or wrong way to walk a labyrinth," he went on to say. "You only have to enter and follow the path. The labyrinth invites us to use our whole being, body, mind and spirit."
The word "labyrinth" comes from the combination of two Greek words: labrys, which means "symmetry", and inthos, which means "place". A labyrinth is therefore a symmetric walking path.
Dr. Rea went on to explain that labyrinths date back some 3000 years and are found in such historic places as Ireland and Crete. In the early Church, the labyrinth was used as a substitute for taking a pilgrimage. Today it is used as a tool to guide one in contemplative prayer and personal meditation.
The Lake Prince Woods labyrinth will be open to all residents for their self navigated times of prayer and meditation. In addition, the Labyrinth Society maintains a national registry and provides a locator for labyrinths across the country. This labyrinth will be registered in the network so persons from the greater community can visit the campus to enjoy its sanctuary and beauty.
Funds for landscaping and installation of the labyrinth came from United Church Homes and Services Foundation which supports the work of three continuing care retirement communities, seven rent-subsidized apartment buildings for seniors, a childcare center and PACE (Program of All Inclusive Care for the Elderly) all under the auspices of United Church Homes and Services in Newton, NC.
Lake Prince Woods is a residential retirement community offering an array of lifestyle choices. Located in Suffolk, Virginia, the community is nestled among 172 lovely wooded acres bordering Lake Prince. As a continuing care retirement community, Lake Prince Woods offers residential living, assisted living, memory care and skilled nursing care. To learn more, visit the website: http://www.lakeprincewoods.org.