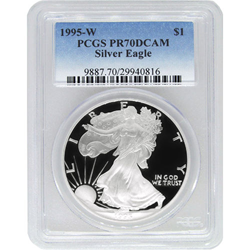 Dallas, Texas (PRWEB) June 30, 2014
JM Bullion is pleased to announce that the elusive 1995-W Proof American Silver Eagle PCGS PR70 coin is now available online at JMBullion.com. One of the most sought-after modern rare coins, the 1995-W Proof American Silver Eagle was issued to celebrate the 10-year anniversary of the American Eagle series. The anniversary series American Silver Eagle coins on the whole enjoyed a limited mintage, but these illustrious PCGS PR70 coins are extremely rare with only 36 in existence.
Last year a 1995-W Proof American Silver Eagle PR70 DCAM coin sold for a record $86,654.70. This set the record for the most expensive American Silver Eagle coin to ever be sold at auction. The coin has also made the "Top 50 Most Popular Modern Coins" by NGC and the top 100 list for the PCGS.
These proof coins are nearly unattainable due to their rarity, which makes this offering an incredible opportunity for JM Bullion customers who are collectors of rare silver bullion. Struck at the West Point mint, this coin has become one of the most popular coins in the world. Serious collectors and investors are clamoring to obtain this coin that is nearly unparalleled in the history of the mint for its low mintage.
Aside from its rarity, the 1995-W Proof American Silver Eagle PR70 has been graded by the PCGS and is certified to be in pristine, newly minted condition. Its exceptional design and quality make it an outstanding coin in every regard. While the West Point mint produced about 30,000 1995-W Proof American Silver Eagles, only a mere 36 have attained the perfect grade of PR70, and these coins hardly ever hit the market.
Obtaining a 1995-W Proof American Silver Eagle PR70 is akin to owning one of the most coveted offerings ever produced by the U.S. Mint. This coin is engraved with stamps that denote its year 1995, weight, purity, face value and inscriptions that include "In God We Trust," "Liberty," and "United States of America." For a modern coin to elicit so much interest, this coin is rare, indeed, and likely to increase in value as the years progress.
The current asking price for this 1995-W Proof American Silver Eagle PR70 is $65,000 and can be viewed online at http://www.jmbullion.com/1995-w-american-silver-eagle-pcgs-pr70-dcam/. Customers can also call 800-276-6508 to learn more about this incredible opportunity.
About JM Bullion
JM Bullion was established as a small online precious metal retailer in 2011, but quickly grew and has emerged as a major retailer in the online precious metals industry. JM Bullion offers a wide selection of gold and silver products, from bars to rounds to coins. Dealing exclusively in high quality physical bullion, JM Bullion works directly with mints and distributors and ships directly to your doorstep.