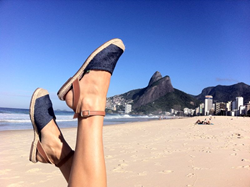 Burbank, Calif. (PRWEB) June 30, 2014
The distance between Burbank and Brazil can be measured in miles – and bridged by Design Thinking, one of Woodbury University's four pillars.
That's certainly been the experience of Woodbury alumnus Cynthia M. Tello, Creative Director/Owner of http://www.joyadaterra.com. Now based in Rio de Janeiro, Tello graduated from Woodbury in 2000 with a degree in Animation and did graduate work in the Master of Organizational Leadership (MOL) program in 2013.
Tello has just embarked on a Kickstarter campaign to bring to market the first-ever sustainable shoe. "Joya da Terra commits itself to the human-centered tenets of Design Thinking by promoting accountability for the impact of our products upon our customers' bodies and the culture at large," she says. Woodbury's Design Thinking method enables students to examine all sides while pursuing solutions to complex social problems.
Tello has spent more than eight years consulting for some of the most prominent apparel brands in the U.S. and Europe. A former Print Designer for 7 for All Mankind and Hudson Jeans, she launched own brand, "Life and Death," in 2006 but walked away when she realized that her backers were planning to manufacture her goods in China and abandon her local suppliers. That experience redoubled her commitment to sustainability and gave rise to her first eco-brand.
"Brazil is at a very delicate stage, with millions of tourists now visiting the country for the World Cup and, in two years, for the Summer Olympics," Tello says. "Visitors are bound to leave their footprints in this delicate ecosystem. Many of the cities hosting these events have no recycling efforts and poor sanitation capabilities, risking the health and livelihood of the local communities. By giving a new value to materials that are traditionally considered waste, we are creating a business model that can create safe, toxic-free jobs and encourage local governments to in require recycling efforts in their communities."
According to Tello, the footwear industry relies heavily on petroleum-based products that are cheap to manufacture but are often unsustainable. "Many products can even contain known carcinogenic chemicals, such as the leather dyes that can render land infertile and seriously affect marine life and the entire food chain," she says. "Our campaign seeks to promote a better future for our planet, through a business model that can be duplicated in many coconut-growing countries, like the Philippines, India, Indonesia and so on -- countries that also suffer from a lack of government interest in sustainability." The Joya da Terra line features two unisex styles.
"Our entire production line is focused on re-materialization," Tello continues "Our eco-leather facility has its own water treatment plant. We use 100 percent water-based adhesives to protect the health of our employees and minimize our carbon footprint. The coconut fiber foot-mattress has natural anti-bacterial agents, which are coated with a layer of natural latex that molds to your body as you wear it. It also stimulates the nerve endings in your feet and promotes good posture. The soles are made of the latest technology in natural latex, collected in the Amazon rainforest, a renewable material that can provide locals with a source of income without damaging or cutting down trees. This is an idea whose time has come, and my experience at Woodbury – especially with Design Thinking – was instrumental in bringing me to this point."
To participate in the Kickstarter campaign, visit: https://www.kickstarter.com/projects/306596941/joya-da-terra-a-sustainable-footwear-line-made-in.
About Woodbury University
Founded in 1884, Woodbury University is one of the oldest institutions of higher education in Southern California. Woodbury offers bachelor's degrees from the School of Architecture, School of Business, School of Media, Culture & Design, and Institute of Transdisciplinary Studies, along with an MBA program, Master of Architecture (MArch), Master of Science in Architecture (MSArch), and Master of Organizational Leadership. The San Diego campus offers Bachelor of Architecture, Master of Real Estate Development for Architects (MRED), and Master of Science in Architecture, Landscape, and Urbanism degrees. Visit http://www.woodbury.edu for more information, and Reflections on Excellence, a twice-monthly blog written by Woodbury University President Luis Maria R. Calingo, Ph.D.