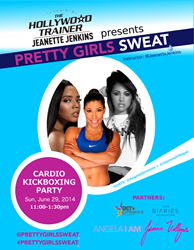 (PRWEB) June 27, 2014
Hollywood Trainer Jeanette Jenkins teams up with Angela Simmons & Jasmine V for a "Pretty Girls Sweat Cardio Kickboxing Party" at the BET Experience June 29th at the La Convention Center 12-1:30pm.
WHO: Jeanette Jenkins is a renowned healthy living expert, Nike Elite Trainer, Author, Producer, President of The Hollywood Trainer LLC., creator of over 17 International Top Selling Workout DVD's including "Sexy Abs with Kelly Rowland," and trainer to many stars including P!nk, Kelly Rowland & Alicia Keys.
Angela Simmons is the star of two hit MTV shows, "Run's House" and "Daddy's Girls," founder and fashion designer of the ultra-popular clothing, sneaker, and handbag/accessory line PASTRY, as well as the lifestyle brand ANGELA I AM.
Jasmine Villegas is a multi-talented actress/singer who has amassed a huge teen following over 1.6 million twitter followers and she has just signed with Interscope Records. Her electrifying vocal ability earned her a spot on Justin Bieber's 32-city My World Tour and impelled the subsequent success of her 2011 mixtape, "S(he) Be(lie)ve(d)."
Pretty Girls Sweat is an initiative created by the non-profit Foundation Teen Diaries offering fitness events that focus on motivating young women to live active lifestyles, participate in organized sports, and support the fight against obesity.
WHAT: The Teen Diaries Foundation's Pretty Girls Sweat program is proud to team up with The Hollywood Trainer Jeanette Jenkins, entrepreneur Angela Simmons, and singer Jasmine Villegas for an interactive Q&A session & Cardio Kickboxing Workout Party for 300 teen girls (ages 13-19) at the BET Experience on Sunday, June 29th, 2014 in Los Angeles, CA.
****Exclusive interview opportunity with Jeanette, Jasmine V, Angela Simmons, and Teen Diaries Founder Aeshia DeVore Branch for select media.****
WHEN: Sunday June 29th 11am-1:30pm Sunday
11am Registration for events
11:30-12pm (interview availability)
12pm Event starts
WHERE: BET Experience, South Expo Hall, Basketball Court, 1111 S. Figueroa, Los Angeles, CA
Contacts:
For Jeanette Jenkins:
Jessica Emmanuel
Jessica(at)thehollywoodtrainer(dot)com
Cell: 213-265-8942
For Jasmine V:
Greg Cortez
greg.cortez(at)42west(dot)net
stephanie.durning(at)42west(dot)net
For Angela Simmons:
Anne Edmond
anne(at)theagencycraft(dot)com
Cell: 917-238-1229
On the web:
Jeanette Jenkins
http://www.thehollywoodtrainer.com
Twitter: @JeanetteJenkins
Facebook: https://www.facebook.com/pages/Jeanette-Jenkins-The-Hollywood-Trainer/180822369058
Instagram: @MsJeanetteJenkins
Angela Simmons
http://angelaiam.com/
Twitter: @AngelaSimmons
Facebook: https://www.facebook.com/pages/Angela-Renee-Simmons/179670028829281?ref=hl
Instagram: @AngelaSimmons
Jasmine Villegas
http://jasminevmusic.com/
Twitter: @JasmineVillegas
Facebook: https://www.facebook.com/jasminevillegas
Instagram: @JasmineVillegas