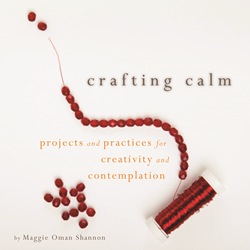 Maggie Oman Shannon offers numerous creative exercises to ignite your spirituality and your craft. —Science of Mind
(PRWEB) June 28, 2014
Viva Editions has released audiobooks from bestselling authors Maggie Oman Shannon and Billee Sharp, Crafting Calm and Lemons and Lavender, respectively. Oman Shannon and Sharp offer DIY crafts and projects for everyone, from making mindfulness to living the eco-fab good life.
Craft your way to inner peace with busy hands and a quiet mind with Crafting Calm by Maggie Oman Shannon. By immersing ourselves in a craft with intention and mindfulness, we can quiet those voices around us and in us - we can enter sacred stillness. Through revealing interviews, personal stories, and forty suggested activities, the author shows how creative processes can become spiritual practices. Whether you're an aspiring artist, longtime craftsperson, or someone who has never set foot in a craft-store (yet!), you'll find something in Crafting Calm to inspire you. Crafts and how-to ideas include contemplation candles, visual journals, prayer shawls, collage mandalas, intention beads, finger labyrinths, personal prayer flags, spiritual toolkits, and tabletop altars. Features inspired craft ideas from luminaries such as Angeles Arrien, Mary Ann Radmacher, Shiloh Sophia McCloud, Sister Marianne Heib, May Ann Brussat, and many more.
Lemons and Lavender by Billee Sharp is an inspiring and instructive guide to living the handmade life by consuming less and creating more. Practical and profound, this handy how-to covers every area of life and offers easy-to-do tips, recipes, and advice for saving money and the planet. Learn how to ditch your lawn and raise organic vegetables, cook healthy meals for pennies, cure minor maladies from the kitchen cabinet, save big dollars with small repairs, and eco-clean your house with lemons and lavender. With this guide, families can live more joyfully and far more creatively, all on a dime.
About Viva Editions
Viva Editions are books that inform, enlighten, and entertain. The very name, "Viva!", is celebratory. And while Viva Editions is a line of books that are as fun as they are informational, the intention behind Viva is very serious—these are books that are truly helpful and intended to enhance people's lives.