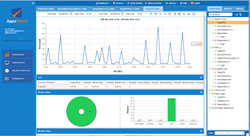 Los Angeles, CA (PRWEB) July 01, 2014
Application performance monitoring, or APM, is an integral part of optimizing applications both pre and post launch. With any Citrix go-live, large or small, application performance is crucial. When applications are critical, whether in healthcare, finance, or another field, downtime or slowdown is unacceptable. NRG Global, a Los Angeles based quality assurance firm, offers their latest release: an image-based application performance monitoring solution, AppsWatch 7.7. The software showcases real-world usage of applications to allow improved insight during rollout or development stages. To learn more about AppsWatch, read here. Or download a free trial here.
AppsWatch 7.7 provides a window into the way users perform tasks, transactions, or any other measurable task. Metrics are collected and all data is available for analysis. AppsWatch runs seamlessly in the background of any user environment or workstation. For example, while monitoring a thin client, AppsWatch can measure exactly when slowdown occurs or when resources are improperly regulated. When issues do arise, screenshots are automatically taken and emailed to the operations or development teams for immediate problem resolution. Detailed back-end logs are also kept for more difficult or demanding issues.
Image-based APMs give enhanced transparency of the monitoring process. With Citrix especially, it is important that varied environments and workstations run the application properly. To alleviate the stress of efficient scalability, AppsWatch provides graphical reporting with numerous, pertinent metrics. Most notably, reports can be fully automated to run and send performance data with any desired constraints or filters automatically. To try AppsWatch risk free, click here.
Since tools like XenApp are fully scalable and constantly being accessed from varying users on different types of workstations, AppsWatch is also fully scalable. It can run simultaneously, in the background, on multiple environments – thin, fat, custom, web, etc. Further, users can be in the hundreds or tens of thousands depending on desired results. Through this process, reporting is more accurate and better reflects real-world usage.
Overall, rollout of a Citrix based application to small, medium, or enterprise-class environments, performance cannot be sacrificed. NRG Global's AppsWatch provides not only robust reporting, near real-world usage environments, but is also fully scalable. NRG Global offers a free proof-of-concept to help showcase usage for applications here. For larger rollouts, consulting is also offered here.
About NRG Global:
NRG Global's motto is that you should test software the way you use it. Their software is built from the ground up to replicate exactly how the end-user interacts with the application to give you the most accurate test possible.
Their unique approach to performance testing has helped companies around the world test critical business applications. Their clients include Capgemini, JPMorgan Chase, Baylor Health Care System, UCLA, GAP, and NASA.
For more information about NRG Global, visit http://www.NRGglobal.com.
Contact Info:
Ted Petcu
NRG Global
+1.213.234.7550
tpetcu(at)nrgglobal(dot)com