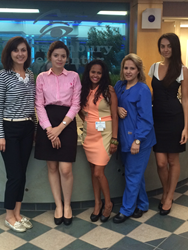 For years I depended on my glasses, but thanks to Dr. Christenbury I am glasses free and my vision is perfectly clear.
Charlotte N.C. (PRWEB) July 01, 2014
The employees at Christenbury Eye Center are diverse and unique. Amongst them they speak five languages, including Spanish, Russian, French, Ukrainian and English. People speaking these languages as a first language can easily improve their eyesight at Christenbury Eye Center. Now, most anyone in the Carolinas and surrounding areas can experience a LASIK or ReSTOR procedure, cataract surgery, dry eye treatments and more without the need for a language translator. The Hispanic community alone in the Charlotte and surrounding areas are estimated at 200,800, according to Hola Noticias.
Meet our multilingual team:
Lariza - "I'm originally from Honduras, and I speak Spanish and English. I'm a proud mother of an amazing little boy and I've lived in Charlotte, NC for over 25 years. I have translated in the medical field for 18 years. Currently, I'm in school working on a B.A. in Spanish and an Interdisciplinary Minor in Linguistics. I love providing a voice to the Spanish community and assisting those with something that comes very natural to me."
Rakel - "I am from Nicaragua and speak Spanish and English. I have 20 years of experience in ophthalmology. I lived in New Orleans, LA for 22 years and have lived in Charlotte for four years. For the past 13 years, I coordinated the ophthalmic surgical part of a cataract surgery medical mission trip by the Order of Malta to Nicaragua that Dr. Christenbury participated in last year."
Adria - "I am from Nice, France, and speak French and English fluently. Three years ago, Dr. Christenbury performed LASIK on me. My experience with the team was so great that I came to work here."
Alina - "I am originally from Ukraine and speak fluently in Russian. I have lived in Charlotte for about four and a half years. Dr. Christenbury's team truly make you feel welcomed and special."
Yelena - "I was born in Ukraine and moved to the United States when I was 4 years old. I lived in upstate New York before moving to Charlotte. I've called Charlotte home for 20 years.
DJ Carla Morales at Radio Station Latina 102.3FM received a LASIK procedure with Dr. Christenbury. She had this to say about her experience:
"For years I depended on my glasses, but thanks to Dr. Christenbury," said Carla, "I am glasses free and my vision is perfectly clear. Best of all, the entire procedure was painless. I highly recommend Christenbury Eye Center and encourage anyone considering this procedure to schedule a free consultation today."
To schedule a free consultation, contact Christenbury Eye Center at (877) 702-2020 (press 2 for Spanish) or visit the Christenbury Eye Center website.
About the Christenbury Eye Center
Dr. Jonathan Christenbury established Christenbury Eye Center in 1987 and is known for his groundbreaking work in vision care. For more than a decade he has consistently been one of the first surgeons in the Carolinas to perform many pioneering vision care procedures including LASIK, Visian ICL, and ReSTOR.
Dr. Christenbury performed the first LASIK procedure in the Carolinas in the early 1990s and since that time has performed more than 75,000 laser vision correction procedures. He also performed the first IntraLASIK procedure on the East Coast in 2002 and the first WaveFront Customized IntraLASIK in the Carolinas in 2005. In the Spring of 2005, the doctor was the first Carolinas eye surgeon to perform the ReSTOR® procedure, used both for the treatment of cataracts and for Presbyopia, eliminating reading glasses and bifocals. Today, Dr. Christenbury is the most experienced ReSTOR surgeon in the United States.