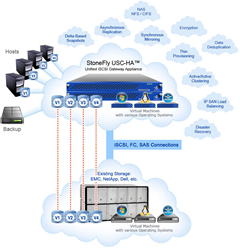 USC is the ultimate solution to bring back and put new life in to your old storage equipment from various vendors as the StoneFly gateway brings the latest in storage and server virtualization to your environment
Hayward, Calif. (PRWEB) June 29, 2014
StoneFly, Inc., a leading supplier of integrated IP storage area network (SAN) systems and a wholly-owned subsidiary of Dynamic Network Factory, Inc. (DNF), today began shipping its remarkable USC "Unified Storage Concentrator" and USC-HA Cluster High-Availability line of IP SAN Gateway Appliances.
StoneFly takes its patented storage virtualization engine that is used in its software-defined storage architecture to the next level, by making the step up to hyper-converged infrastructure affordable for businesses by leveraging their existing storage equipment.
"USC is the ultimate solution to bring back and put new life in to your old storage equipment from various vendors as the StoneFly gateway brings the latest in storage and server virtualization to your environment," said Mo Tahmasebi, president and CEO for StoneFly.
StoneFly USC and USC-HA Cluster IP SAN Gateway Appliances allow businesses to easily convert their existing Fibre Channel, SAS, or iSCSI storage by assigning or provisioning all or part of their existing EMC, NetApp or Dell storage through the StoneFly IP SAN Gateway. From this storage pool they can create new volumes for all of their hosts. Once storage volumes have been provisioned by the USC or USC-HA appliance, they can enjoy StoneFly's numerous advanced data storage management features.
Built-in features of the StoneFly IP SAN Gateways include up to 2520 delta-based snapshots per subsystem with mountable read-write snapshot volumes, real-time synchronous campus mirroring of iSCSI volumes and nodes, and iSCSI port teaming with failover and load-balancing. Unique to the USC-HA IP SAN Gateway models are active-active clustering services with host and IP SAN load balancing with seamless failover and failback operations.
Optional enterprise-level features available for the StoneFly USC and USC-HA IP SAN Gateways include hardware-enabled block level AES 256 volume encryption, thin provisioning with space reclamation, asynchronous replication, NAS volume support for CIFS and NFS protocols, VSS support for quiescing databases, and optimized data deduplication for increased storage efficiency. StoneFly's data deduplication capability allows users to fit 5x to 137x more data within the same storage footprint without reducing overall performance.
The USC-HA IP SAN Gateway is an ideal solution to consolidate all server and storage systems into one easy to manage, fully redundant, highly available modular appliance. Use of virtualized operating systems allows for complete hardware utilization and considerable reduction in power and cooling costs. USC-HA flexibility replaces the "fixed hardware model" of the past with on-demand resource allocation (such as CPU, memory, storage, etc.) based on application requirements.
USC-HA comes with a IP SAN Virtual Storage Appliance Cluster (SCVM™) and the ability to create additional virtual storage or virtual servers as needed. Windows, Linux, and StoneFly SCVM Virtual Machines that are VMware compatible can easily be installed on the USC and USC-HA IP SAN Gateways to further reduce hardware costs and datacenter overhead. The StoneFly IP SAN Gateways also support a wide range of virtual server environments including VMware, Citrix XenServer, and Microsoft Hyper-V.
For all other information about StoneFusion and StoneFly's IP SAN products and features please visit http://www.stonefly.com or http://www.iscsi.com
About StoneFly, Inc.
StoneFly, Inc., headquartered in California, was founded in 2006 to deliver upon the vision of simple and affordable storage optimization and disaster recovery protection through IP SAN solutions. StoneFly is a business division of Dynamic Network Factory, Inc. (DNF), a leading maker of high-performance network attached storage, storage area networks, RAID and iSCSI systems. For more information on StoneFly, please visit http://www.stonefly.com and http://www.iscsi.com
Contact:
Marketing
StoneFly, Inc.
http://www.StoneFly.com
510.265.1616
marketing(at)stonefly(dot)com
###
StoneFly, StoneFusion, USC, USC-HA, SCVM and Storage Concentrator are trademarks or registered trademarks and the property of StoneFly, Inc. All other company and product names contained herein are property of their respective owners.