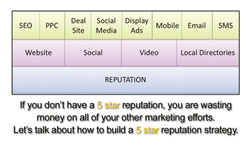 Creating a 5 STAR reputation should be the beginning of any marketing plan.
Indianapolis, Indiana (PRWEB) June 30, 2014
JFT Web Marketing is excited to announce that beginning July 1, 2014 they will be implementing Reputation Marketing into their menu of interment marketing tools. According to wikipedia, Reputation Marketing is the connection of reputation management and brand marketing. This is shared through the socially connected world as a brand's reputation is vetted online nearly in real-time, with the increase of internet usage on smart phones, by consumers leaving online reviews and citing experiences on social media websites.
With the number of websites anxious to display the current story of a client about a local businesses, can be positive and negative.
According to team leader, Lois Wyant, "If the service of a local business is excellent and the patron is honest about their story, all ends well. But, if the service is good, mediocre or bad and the patron shares a bad review, deserved or not deserved, all does not end well. And that bad rating sits on line for a long time pushing away business."
With the increase in usage of smart phones and the number of review sites available, 86% of the future clients for a local business will base their final decisions on an online reputation. This is second only to personal recommendations.
"A half star improvement on a five star rating on an online reputation could make a 30-49% improvement for a business and for a local small business, this is very beneficial", shares Wyant.
Wyant also advises, "A business must be aware that having a negative review or no review will have the same effect on a reputation. Six to ten reviews are required, and then encouraging at least three to four new reviews every thirty days. Video reviews carry more weight in the consumers view. Then of course, a five star review would be the goal and what we strive for for all of our clients."
How does a local business accomplish a five star review?
Wyant says, "The most important way would be to ask happy clients to share about their experiences. This could be done by including the request in a regular enewsletter, giving a happy client a business card with the request to share on line as they check out or sending the happy client a post card after their purchase is delivered or service was completed."
"It will be important to include the link to the websites that the business would like to lead the clients to for the review. We look at the process that the business interacts with their clients to determine the most beneficial direction to grow to a five star reputation. It will also be important for the local business to respond to all reviews that are three stars or less. This can be accomplished by setting up a Google Alert for the business name or by using our technology that will send the business owner an email when lower ratings are posted on line The important step is that the client posting the lower rating should be contacted and efforts made to make the experience happy so they might remove the review if it is possible or add to the post that the business reached out to them and improved the experience."
Once the five star reputation is accomplished all other marketing efforts have greater power to reach potential new clients.
To find out how you can gain a business five star reputation, please contact JFT Web Marketing at (317)931-9665. The perfect partnership for businesses with no reviews or great businesses with bad reviews.