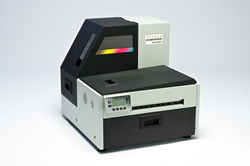 Labels printed on the L801 Label Printer routinely cost one tenth the price of many popular desktop inkjet label printers.
Chanhassen, MN (PRWEB) July 07, 2014
Narrow Web label printing system leader Afinia Label announced today that they have created a webpage where prospective customers can upload their design files and receive a printed label sample and ink cost quote.
"Until now, the most expensive component of a digitally printed label has been the ink," said Mike Atkins, Afinia Label's National Sales Manager. "Memjet technology has changed that. Labels printed on the L801 Label Printer routinely cost one tenth the price of many popular desktop inkjet label printers. And now, potential clients can see how low the operating cost can be, and how the L801 Label Printer can make perfect business sense."
The Afinia Label Sample Page is simple and convenient. Anyone interested in evaluating a digital label printer can upload a pdf file of their label artwork. Within a few days, a printed sample and a cost analysis of the label will be sent by mail. The sample will be printed on either the Memjet-powered L801 or the BS5609-certified, dry toner based R635.
The Afinia Label L801 is powered by Memjet technology, which gives it a print speed of 60 feet per minute and an industry-leading ink cost of less than 3 cents for a 4" x 6" label with 75% coverage. This is a fraction of the cost of other inkjet label printers. The L801 supports 3 print modes: Roll to Roll, Roll to Cut, Print & Hold.
The Afinia Label R635 is a single-pass, 4-color, LED-based, low-temperature laser printer that runs at 30 feet per minute. Designed for mid-range and industrial printing, the R635 offers cost-savings by bringing label printing in-house. In addition to printing prime labels for industries like coffee, wine and specialty foods, the R635 is used by many companies for private labeling of chemicals because of its ability to create output that meets GHS and BS 5609 requirements.
Afinia Label emerged as a digital label printing system leader in 2012 when they collaborated with Memjet to create a commercially viable narrow web label printing solution. Afinia Label is now one of the largest distributors of Memjet-based label printers in the world.
Afinia Label is a division of Microboards Technology LLC, is a leader in specialized printing solutions. Their twenty-year history includes leadership in disc duplication, 3D printing and, most recently, digital label printing. More information can be found at http://www.AfiniaLabel.com, Twitter or by phone at 1.888.215.3966.