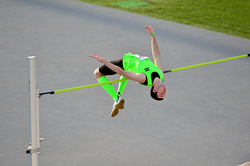 Sacramento, CA (PRWEB) June 28, 2014
The 2014 USA Track and Field Outdoor Championships are underway and already showing some superior athleticism. Hosted in Sacramento, the meet is bringing out the best athletes in the USA. Events are being held at Sacramento State University's Hornet Stadium throughout the weekend of June 26 – 29th.
High jump athletes and Zensah® team members Inika McPherson and Garrett Huyler will both be competing at the USATF championships. Both athletes have achieved PR's throughout the season and have truly proven themselves in the sport. Track and Field has constantly be dominated by large brands like Nike and Adidas, and it is a honor for Zensah® to be a part of McPherson and Huyler's journey to the championships.
Zensah®, the Miami based compression brand, is best known of their compression socks and compression sleeves. The Zensah® Compression Socks and Compression Leg Sleeves benefit track and field athletes with muscle support, injury prevention, and faster recovery.
Although sprinting is probably the most recognized area of track and field, other competitions include hurdling, high jumps and steeples. Many of the different areas of track and field have an impact on athlete's muscles. Wearing compression socks and compression sleeves helps to relieve injuries and pains like shin splints, calf soreness, and reduce swelling.
In addition to seeing the Zensah® socks worn by Inika McPherson and Garrett Huyler, the company will also be hosting a tweetup with a chance to win free compression leg sleeves. Follow the company on twitter for more tweetup details.
About Zensah
Zensah® is a Miami-based company, specializing in sports compression apparel. Their seamless compression socks, compression sleeves, full product line are praised by athletes and fitness enthusiasts, including running, cycling, triathlon, yoga, basketball, golf, and soccer. Zensah® offers compression products for performance and recovery. According to Leisure Trends Group Specialty Running RetailTRAK™, Zensah® is the number one selling Compression Leg Sleeves in the USA for Running Specialty.
Parker Robinson
marketing(at)zensah(dot)com
Zensah® Compression Apparel
(305) 935-4619