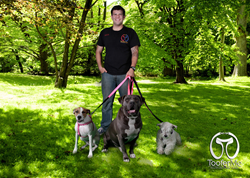 (PRWEB UK) 30 June 2014
The TooferMe™ leashes are multifunctional leads revolutionizing the world of pet owners and pet walkers.
TooferMe™ is a 10-foot, nylon leash with a snap hook on each side. It can be used as a collar, harness, training collar, a splitter for multiple dogs, dog seat belt, hassle free tether, walk your pet or pets hands free, a no pull lead, a lead for all pet sizes, and so much more.
This two-strip nylon leash has loopholes, which allow you to hold or fasten interchangeably every 6 inches. No more tangled leads! Your pet won't have to worry about untangling. The days of purchasing several leads, collars, and harnesses for multiple pets are over.
Alexandro Garcia developed the idea when he walked took two of his dogs, Chapin and Chaquita, to the dog park. When he arrived, he realized he had only brought one lead for both dogs. Not wanting to make the trip back home to get a second lead he got creative. Alexandro wrapped a loop around Chiquita's neck creating a choke collar and hooked the other end of the lead to Chapin's harness and that is how the idea for the TooferOne™ lead came to be.
The Lead can be used for 1 pet or many more. If using with 1 dog, it can be used as a lead at its full length or down to 2 feet as a training lead. It can be wrapped around as a harness or collar. It is great for allowing hands free walking, running or biking. The lead turns into a training collar to correct your pets when needed. The lead can be used to tether fasten the pet without unhitching it from the lead.
The lead has been designed to make each function very easy to use, no special knowledge or training is required. The basic functions are easy for all ages. Tooferme have a range of YouTube videos that can be viewed to take the user through the uses step by step.
The Lead can be used as a splitter to walk multiple dogs, each additional dog is secured using an additional carabineer. It is recommended that when walking 3 or more dogs that training is carried out prior to use. The lead is designed not to tangle as there are 2 swivel hooks, one on each end.
The multifunctional dog lead is fast becoming a huge success in America. It is being used by owners of multiple dogs as well as dog walkers, kennels and dog trainers.
Mark Jesse, Owner of DogzGoneWalk'N, a professional dog walking company in Ventura County, says that, "My entire staff and I use the TooferMe multifunctional leash in our daily business. Love it."