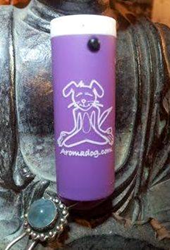 (PRWEB UK) 30 June 2014
The new patented power tube means that there is no need for a refill, the tube just twists and sprays air so there is no water or other carrier that can affect the dog when the essential oil is released.
This newly patented technology allows essential oils to be released into the air without anyone in the room noticing.
Chill out is a natural way to soothe and calm anxious dogs. Made using human grade essential oils it has been developed by Aromatherapists. Chill out is great for times of stress for your dog such as a house move, vet visit, car journey, kennel stay, or the introduction of a new pet or new baby.
This powerful blend of lavender, Roman Chamomile and sweet marjoram becomes fully portable and available 24/7 in the new ambient air diffuser to calm and quiet pet nerves.
Just pump the piston and release the power of Aromatherapy this allows you to have all of the benefits of chill out in an ultra-dry ambient air format. No Spray just Air! Because there is no propellant such as water pets are not intimidated or likely to back off as they might from a wet spray.
The scent cell inside the power tube is made of a patented material which has a unique attraction for scent molecules. It is an exceptional carrier for the values of the essential oils while not compromising the chemical components in any way.
The fob extension on the bottom of the power tube allows it to be taken anywhere, attach to a keychain, back pack, phone, lanyard, or dog collar.
The Power tube is initially available with the Aromadog Chill out inside. There are many more products currently being developed using this technology and these will launch in the next few months.