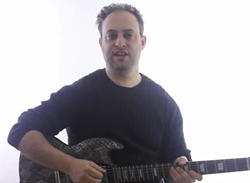 The easiest thing to do is to tap with your middle finger
(PRWEB) June 29, 2014
Tapping is a technique where you use fingers on your non fretting hand to fret notes on the fret board. The technique was made into a mainstay technique by guitarist Eddie Van Halen when he used it in Eruption on Van Halen's debut album in the late 1970's.
"The easiest thing to do is to tap with your middle finger", says Johnson, "usually you will be holding your pick between your thumb and first finger, which makes it easy to transition between picking and tapping". Throughout this easy beginner lead guitar lesson Claude gives lots of advice on the technique as well as many examples of how to perform the technique. Johnson demonstrates how to create your own tapping lick as follows; using the Am pentatonic scale and starting on the first string, 5th fret with first finger and 8th fret with 4th finger and tap the 10th fret. With first finger on the 5th fret, start by plucking the string with your tapping finger and then do a hammer-on to the 8th fret and then tap the 10th fret and simply repeat this sequence. "This can obviously be done without tapping", says Johnson, "the advantage is that you can alternate the tapped note with other notes". Claude demonstrates this by alternating the tapped fret by switching between the 10th and 12th frets over other time he plays the sequence. Claude continues with several other variations of this same idea, all of which are very easy. Guitar TAB's are available for this easy lead guitar lesson at GuitarControl.com.
Claude Johnson
Claude Johnson, a native of Philadelphia PA, began playing guitar in 1990 after being inspired by players like Jimi Hendrix, Eric Clapton, and Stevie Ray Vaughn. He is the creator of GuitarControl.com and has helped 1000's of people to learn to play the guitar with his critically acclaimed instructional DVD courses, all available at GuitarControl.com
About GuitarControl.com
GuitarControl.com is the leader in modern guitar instruction. It's packed with recourses including articles, video lessons, and the best videos in the business for the beginner to the advanced guitar student taught by the best instructors out there. Weather you are into the blues, rock, jazz, metal, folk, or anything in between, they have you covered.