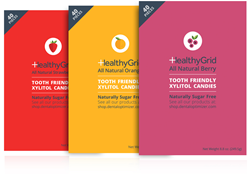 '...that increased saliva flow combats dry-mouth and helps wash away the bad bacteria.' - Andrew Clapp Healthy Grid
Portland, OR (PRWEB) June 30, 2014
Healthy Grid announced the impending release of candy made from Xylitol. Xylitol is a sugar substitute with dental benefits for everyone and health benefits for those with diabetes.
Healthy Grid is best known for their popular Dental Optimizer program which connects people to the most-appropriate dentist to suit their needs. According to Healthy Grid's Andrew Clapp, their success and engagement with the public has revealed other ways they can help improve dental situations. "Almost all of the feedback we get on the Dental Optimizer is good. Patients are usually happy with their dentist and the dentists are happy that they're reaching new people," he said. "One of the things we're noticing and hearing, though, is that there is too much sugar happening in almost everybody's diet. We can tell from the questions that people are asking the dentists and we hear it from the dentists too: people are coming in with cavities and decay that are often pretty advanced."
One solution has been found in Loloz, Healthy Grid's cavity-fighting lollipops which use licorice root to fight cavity-causing bacteria. Another solution lies in a sugar-substitute called Xylitol.
"We've seen Xylitol on the market in both finished products and as an ingredient. We were skeptical about the claims: the health aspects sounded reasonable but we didn't buy that the flavor would hold up," said Clapp. He explains that they did some taste testing and came away convinced. "It really tastes like sugar."
Xylitol is more slowly absorbed than regular sugar and only fractionally utilized. That leaves it with a calorie count of about 2.4 per gram which is 40% lower than regular carbohydrates. Xylitol requires no insulin to metabolize which is helpful to those with diabetes as well.
Xylitol is a naturally-occurring carbohydrate that is taken from corn cobs or trees. It even occurs naturally in human bodies. An adult produces up to 15 grams per day.
According to Clapp, these benefits are incidental to Healthy Grid's intention in selling candy made with Xylitol. "We know that this product helps diabetics expand their diet. That the source is natural, well, that's an increasing concern across the board and we appreciate that. What's exciting to us, in addition to these other features, is that Xylitol helps fight cavities."
Decades of research with an emphasis on safety for the consumer have revealed that Xylitol helps fight tooth decay. Whether in high-risk people (bad diet, excess sugar consumption) or low-risk (better diet, less sugar consumption, fewer cavities) Xylitol has been shown to help improve the state of oral health.
Xylitol candies are shown to be particularly helpful because of the time it takes to eat one. Like the Loloz lollipops, the sustained exposure to ones teeth allow the substance enough time to work.
Clapp explains, "Xylitol doesn't feed the bacteria that cause decay. Over time, the bacteria colonies will change and this has a cumulative effect of speeding up the reduction of decay." He describes how Xylitol also increases saliva production, "Mouth-watering candies, we call them. Basically, that increased saliva flow combats dry-mouth and helps wash away the bad bacteria."
Xylitol is also helpful in the fight against nasal congestion and other upper-respiratory problems. It helps loosen up the harmful bacteria that cause congestion. It's recommended as an addition to nasal sprays, neti pots, and positive pressure bottles. It can be used by those suffering from illness or allergies. Careful adherence to instructions in these cases is recommended.
General information about Xylitol can be found at http://www.xylitol.org. Healthy Grid's Xylitol candies can be found at http://www.healthygrid.com/xylitol. More information about Healthy Grid's other dental health innovations can be found here: http://www.healthygrid.com .