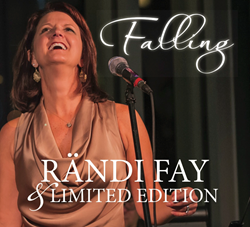 "Creating a song is a rush: the inspiration might come in thought, or a scent, or a phrase and all of a sudden these intricate lyrics start to emerge, and melody, rhythm and harmonies come in to flesh it out.
(PRWEB) June 30, 2014
Music is the core of Randi Fay's heart. Her latest release "Falling" captures the essence of the lyrical and melodic ambiance that compliments her vocal style. Catchy rhythms bring this collection of songs to a new way of listening to the templates of older standards with 'new ears'. Recorded at Rock Garden Studio in Appleton, WI and co-produced with Marc Golde, with collaborations with cellist Hans Christian and trumpeter Bob Levy added the finishing touches to a venture of hallmark steps in the development of her unique niche "lyrical jazz". Also featured is the fantastic musicianship of: Greg Pagel- keyboard, organ & accordion, Bob Balsey- guitar, Bob Levy- horns, Mick Maloney- bass, Kurt Risch- percussion and Kevin Crocker- drums.
"Creating a song is a rush: the inspiration might come in thought, or a scent, or a phrase and all of a sudden these intricate lyrics start to emerge, and almost simultaneously, melody, rhythm and harmonies come in to flesh it out.  Add in the textures of instrumentation and before you know it, a whole new world is created, to express an idea, a concept, an experience... that all started in your head, and yet now it can be shared with everyone."
Born in Green Bay, Wisconsin, and educated in the sciences, practicing veterinary medicine and raising three children, professional singing was put on the 'backburner' outside of offering her gift to her church which kept her muse happy!
Shifting her career focus after a series of injuries Rändi now had the opportunity to sing with many fine ensembles in northeastern Wisconsin, which included the Dudley Birder Chorale, the Symphony Chorale/Green Bay Choral Artists, Regency Singers, Steppin' Out, Broadway Mania and Project Pink.
In addition to composing, producing and live performances on behalf of her company Emerald Heart Productions, she performs with the acclaimed Daddy D Productions as featured vocalist for the Big Band Reunion and the Allouez Village Band. 
 
In 2010, Rändi began her solo career with pianist John Contratto in the jazz duo "Rhapsody."  In 2011, she established her jazz/blues ensemble "Limited Edition" for larger performing opportunities, drawing from many of Wisconsin's finest jazz musicians blending jazz, blues, latin and swing, developing the genre Rändi refers to as "lyrical jazz.". For more intimate settings the acapella "Emerald Heart Quartet" was formed comprised of Paul Grall, Angela Zuildmulder, Tim Olejniczak, Suzan Sherman and Dale Leonard.
 
Rändi's recording experience includes co-producing three CD's with multi-instrumentalist Hans Christian, "Close to My Heart; Love Songs and Lullabies" released November 2010, and "Noël" in October 2011.  These two projects are the result of rich collaborations with musicians Hans, George Sawyn and Woody Mankowski on both, and Tom Smith and John Contratto on the first.  In June, 2012, she released her third CD: "That Old Black Magic."  This project features Chris Salerno, John Gibson and Danny Lueck, along with Hans and Woody, playing fresh jazz arrangements of beloved standards.   
Summer 2013 brought the latest development in her career, writing and performing original music.  Solo and collaborative compositions with bassist Mick Maloney, guitarist Bob Balsley and keyboardist and composer Greg Pagel.
"Rändi has a style all her own, spearheading a unique blend of genres by way of adding the melodies and lyrics that come to her musical heart with originality and poise." says Jaijai Jackson of The Jazz Network Worldwide.
Rändi looks forward to continuing to share her gifts, seeking opportunities to perform on festivals in the Northweastern region as well as specialty performances that would allow for the new blend of musical artistry she so clealy calls her own "lyrical jazz".
Be sure to check out her feature on The Jazz Network Worldwide this week at http://www.thejazznetworkworldwide.com. To learn more and to purchase go to http://www.randifay.com.