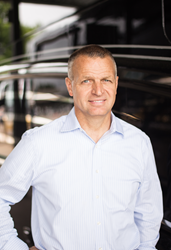 We're excited to see how [Todd] will take our service center to new levels of success and customer satisfaction.
Miami, Oklahoma (PRWEB) July 01, 2014
Newell Coach Corporation is pleased to announce the hiring of Todd Dills as its new V.P. of Customer Service. Todd joins Newell after 22 years leading the high-volume service center at Mercedes-Benz of Plano, Texas, where he oversaw a service staff of 95 and managed a service center with 55 service bays.
A native of Durant, Oklahoma, Todd started his career at Fred Jones Lincoln Mercury in Oklahoma City before moving to Plano to assume his role at Mercedes-Benz. Todd and his wife, Sundy, will be re-locating to the Miami, Oklahoma, area with their six children.
"Todd brings to Newell a wealth of experience leading a luxury automotive service center," said Newell Coach General Manager, Grant Kernan. "We're excited to see how he will take our service center to new levels of success and customer satisfaction. We're confident that customers will enjoy getting to know Todd when they visit our facility."
Todd is filling the position created by the retirement of John Clark, who led Newell's customer service team for the last 11 years. "John was instrumental in developing the sterling reputation of our service and support over the last decade," said Newell President and CEO, Karl Blade. "John and his wife, Vicky, have been and will continue to be an important part of the extended Newell family. We wish them all the best."
ABOUT NEWELL COACH
Newell Coach Corporation is the leading designer and manufacturer of custom luxury motor coaches. Newell coaches feature state-of-the-art design and top-quality materials, custom furnishings and appliances, and full-time customer service and support. Based in Miami, Oklahoma, Newell has been manufacturing custom coaches since 1967.For more information, visit http://www.newellcoach.com, or call us at 1-888-3NEWELL (1-888-363-9355).