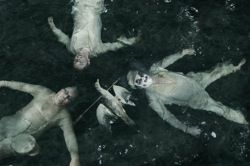 Some of the most fantastic and mind-blowing large-scale performance pieces from all over the world.
Düsseldorf, Germany (PRWEB) June 30, 2014
"düsseldorf festival!" is a showcase of state-of-the-art productions of circus, dance, and music performances from all over the world. For three weeks (2014 dates: September 10-28), the city of Düsseldorf invites visitors to suspend their beliefs in the limits of performing arts with some of the most fantastic and mind-blowing large-scale performance pieces from all over the world. About 500 artists will perform for an audience of about 25,000 international attendees at 60 events.
The festival is marked by large scale productions of innovative dance, music theater and nouveau cirque and has grown well beyond its original location, a circus tent in Düsseldorf's historic Old Town ("Altstadt"). To accommodate the ever-growing size of the productions and audiences, events now also take place in venues all over the city, including many unconventional locations. At the same time, the global festival – now in its 24th year and grown out of a local cultural festival – acknowledges its roots by including local artists and music productions in the program.
Highlights of the 2014 program include:
World-renowned dance company "Fabolous Beast" and some of Ireland's best musicians will present "Rian," an expressive dance show with Celtic roots.
A theatrical version of Hitchock's "The Birds" will be presented by actor and jazz pianist Jens Thomas, who is called the "Jimi Hendrix of the piano." "Ancient Mariner" is the eccentric fantasy world of video artist Mark Holthusen and will have musical accompaniment by falsetto Martyn Jacques and the Tiger Lillies, playing accordions. "Cirkus Cirkör" is a circus group that will prove in its dynamic performance "Knitting Peace" that it is possible to literally fabricate peace. "L'Ultra Bal" from France will serve global pop in a cocktail of Belle Époque, Reggae, Waltz, Rap, Chanson, and Afro-Beat. "Compagnie 111" will perform a heart-breaking dance piece in which robots and acrobats express the dance of humans and machines. "Compagnie Accrorap" is an exceptional dance group that will push hip-hop boundaries with "The Roots," set to classical music by Brahms and Beethoven and electronica. Last but not least, the band "Nostalgia 77" from British music producer Benedic Lamdin combines English folk with soul, funk, swing, and Latin flavors.
For more information and to purchase tickets, visit http://www.duesseldorf-festival.de.
Düsseldorf's tourism office is offering hotel and city specials for many of the city's events throughout 2014, including "düsseldorf festival!". The package, called "Düsseldorf à la Card," can be booked right from the tourism office's website at https://www.duesseldorf-tourismus.de/en/hotel-packages/duesseldorf-a-la-card/. Prices start at €49 per night per person based on double-occupancy for a 2-3-star hotel in the city center and at €95 per person for a 4-star hotel. The package includes breakfast, one DüsseldorfCard (free public transportation within city limits plus 30 free or reduced admissions to city attractions), and a city information package. Please check the website for current information.
For more information about the destination Düsseldorf, please visit: http://www.visitduesseldorf.de.
###
Düsseldorf Marketing & Tourism GmbH is the visitors and convention bureau of the city of Düsseldorf. Its responsibilities include tourism and city marketing, as well as conference and meeting marketing, hotel reservation services, fairs and convention services, city event ticket sales and advance ticket reservations. For more information, visit http://www.visitduesseldorf.de.
Düsseldorf Airport, Germany's Next Generation HubTM, offers several non-stop flights from US & Canadian cities (Atlanta, Chicago, Ft. Myers, Los Angeles, Miami, New York, Newark, Toronto), as well as convenient connections to many European cities. For more information about the airport, visit http://www.dus.com.