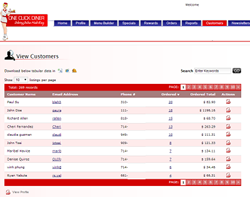 Los Angeles, CA (PRWEB) July 03, 2014
All database marketing starts with customer information that is organized into a single, retrievable marketing database. Most, if not all online ordering services maintain customer databases; the key question is "who has the rights to use that database?" Does the restaurant have the rights to and ability to download their database and market to its customers as it sees fit, or is the restaurant at the mercy of the online ordering service?
itekPOS responds to this question by removing the question from the table with the introduction of its POS that lets the restaurant have control over its database, and provides a platform for marketing within its software.
What value does a Customer Database have to a restaurant?
A customer database provides vital information for future marketing and development. It should contain basic information such as the customer's:

City of residence
Home address
Home number
Email address
Past purchases
Knowing who your customers are can help you to shape certain aspects of your company as it grows and becomes more rooted. In short, a customer database gives you the opportunity to pander to your base. In addition, if you have customers' contact information, you can use it to send out occasional feedback surveys. mTAB
The key behind database marketing is building the relationship with the customer. Developing and understanding this relationship is the cornerstone of database marketing. Developing this relationship can improve customer retention, increase lifetime customer value, and drive product development. Understanding the relationship will dramatically improve the efficiency of acquiring new customers. Intro to Database Marketing
Small and medium-sized businesses are increasingly using databases to manage their customer relationships, improve sales and customer satisfaction and identify key trends. Customer relationship management (CRM) is a central part of many small business' overall sales and marketing strategies. Business Scene
Marketing to a restaurant's customer database starts with being able to access it. Take a test run, find the customer database and endeavor to download it, or use existing technology within the online ordering software.
Can't download the database; search the software to see if there are any existing marketing tools. No marketing tools found either?
itekPOS, and its sister company One Click Diner, the online ordering company, both offer built-in marketing tools such as texting and emailing. In addition the restaurant can download its database anytime it chooses to obtain other marketing methods.
itekPOS will be introducing its POS software at the Western Food Service & Hospitality event Expo on Aug 17-Aug 19, 2014