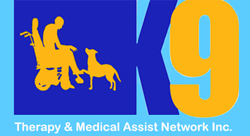 The role of K9 Therapy Network is to provide well-trained, registered, and insured therapy dog teams
Escondido, California (PRWEB) June 30, 2014
K9 Dog Park announces support of K9 Therapy Network, a 501-c-3 non-profit organization designed to assist people and their dogs, to be volunteers in the rewarding field of dog therapy. The tax deductible campaign donations will allow K9 Therapy Network to fund therapy programs to school children, patients in hospitals and nursing homes.
In schools, " PAWS of Hope" (a K9 Therapy program) is designed to provide therapy dog owner teams for visitation to nursing homes, hospitals and elderly care facilities to dog-therapy patients. The therapy dog teams elicit responses from patients who are typically withdrawn and limited in their abilities. Stroking the back of a dog leads to more movement from the patient and thus increased physical activity. The introduction of dogs increase interaction among individuals and promote a positive change in self-esteem.
The role of K9 Therapy Network is to provide well-trained, registered, and insured therapy dog teams (dog and handler) for visitation to nursing facilities, hospitals, rehabilitation centers, schools, libraries and any other San Diego North County location. On visitation, these teams provide therapeutic contact with the elderly, the disabled, or the young.
The role of K9 Dog Park is to provide training for puppies, adult dogs, and their handlers on the journey to becoming a Therapy Dog. At K9 Dog Park, adult dogs can earn their Canine Good Citizen certification and then take Therapy Dog prep training. Once trained, a successful dog and handler will request testing from K9 Therapy Network to potentially earn certification. Certification as a Therapy Dog is not guaranteed as each dog and handler must pass the required testing to be certified.
K9 Therapy Network member volunteers will enjoy ongoing support, discounted training, matching service to facilities requesting visits, insurance, volunteer T-shirt, identification tags for both the dog and the handler, bandana for the dog and more.
For more information, contact us at info(at)k9therapynetwork(dot)com or call Penny at 760-745-9900.
About K9 Dog Park:
K9 Dog Park is the leading dog training, grooming, daycare, and boarding center for southern California. K9 Dog Park is the pioneer in advanced training techniques for dogs and their owners, including snake avoidance training without the use of shock-collars; Behavior Adjustment Training for reactive dogs; "The Magic Wand" dog training system, and "La Paws" training to help create a safe environment for infants, toddlers, and the family dog. K9 Dog Park owner, Penny DiLoreto, has more than 20 years working in the industry. Penny is a certified groomer, certified Veterinary Assistant, Dog Behaviorist, Dog Trainer, and accomplished Author. K9 Dog Park is a training site for Animal Behavior College-Groomers and Dog Trainers and Regional Occupational Program (ROP).
About K9 Therapy Network:
K9 Therapy and Medical Assist Network Inc. has non-profit status under 501c(3) and provides certification, insurance, and visitation connections for Therapy Dogs and their owners.