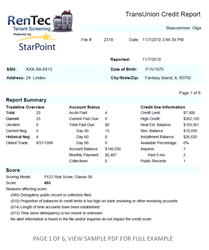 It seems like it was just last month we reduced our pricing for Rentec users across the board, and here we are doing it again already, this is exciting
Grants Pass, OR (PRWEB) June 30, 2014
Rentec Direct, the leading provider of property management software, introduces new tenant screening packages to their already impressive line up of tenant background screening options. The new packages offered by Rentec bring the most commonly used products into an easy to use interface with simple one-click ordering. Now the most popular screening products are easy to setup, easy to order, and also the lowest price in the industry.
Rentec has managed to obtain the highest quality reports from the most reliable data vendors, at extremely competitive pricing through quantity and because they cater specifically to landlords and property managers and no other screening niche. Rentec has taken this pricing, bundled together the most popular products and further reduced the pricing when a package is ordered.
"It seems like it was just last month we reduced our pricing for Rentec users across the board, and here we are doing it again already, this is exciting!", says Nathan Miller, President of Rentec Direct. "Whenever possible we pass savings right along to our clients, which makes us very unique in this market. Nobody else is doing that."
The new packages come in three flavors. The basic package priced at $12.50 includes a nationwide criminal report, nationwide sex offender, social security number validation, and a complete address history. The enhanced package, priced at $20.95 adds a credit report and FICO credit score. The premium package at $29.45 also adds a nationwide eviction record search. With such compelling pricing available, property managers can get either the enhanced or the premium package and have it fully reimbursed from the tenant within the application fee.
Both landlords and property managers are eligible to receive all these reports. The setup process is free and is also the simplest in the industry and it takes only hours to be approved. To learn more about these screening packages and products, visit http://www.rentecdirect.com/screening/
Rentec Direct also offers a free tenant screening guide for landlords, available on their property management blog. This guide shows all landlords who may be unfamiliar with tenant screening the tips and tricks the pros use to order the necessary reports to qualify an applicant.
About Rentec Direct
Rentec Direct provides cloud based rental software solutions for property managers and landlords. Other popular solutions offered by Rentec Direct include tenant ACH payment processing and tenant screening, and online syndication of vacancies to more than 20 popular websites.