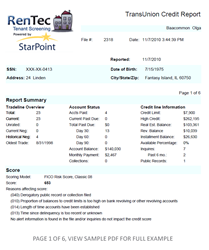 Rentec is pleased to work with the property management industry to provide a reliable offsite file management solution for landlords and property managers alike.
Grants Pass, OR (PRWEB) June 30, 2014
Property managers are quick to realize that data retention is one of the most important aspects of the job. Whether it be a lease agreement, a tenant notice, or virtually any other manger to owner or manager to tenant document, it is vitally important to keep these records safe and available. Rentec property management software answers this need with the introduction and announcement of unlimited file storage available to all members which provides the ultimate in safe-keeping of important documents.
This service isn't just ideal for documents but for other file types as well including pictures and videos. One of the most overlooked and easy technologies today that benefits property managers is to do a quick video walk-through of a home prior to placing a tenant. Not only is this method faster than taking pictures, but can also be annotated with a voice-over during the walk through. This method provides proof of the condition prior to move-in in the event of a deposit dispute later. Since videos are large and difficult to securely store locally, Rentec's online file storage is the perfect location for this type of file.
Having an offsite backup policy is not only required in the property management industry but all other industries which store agreements or consumer information. In this day and age with disposable computers and components, it is all the more important to follow industry best practices and routinely backup data offsite. Rentec is pleased to empower the property management segment of the industry by providing a reliable, solid, offsite file management solution.
To learn more about online file storage or Rentec, visit http://www.rentecdirect.com.
About Rentec Direct 
Rentec Direct provides property managers and landlords simple and affordable software solutions for managing properties, tenants, and owners. Other popular solutions offered by Rentec Direct are ach payment processing and credit & criminal tenant screening. Of the top ten cloud based property management solutions, Rentec is the only one to have earned BBB accreditation and maintain an impeccable record.