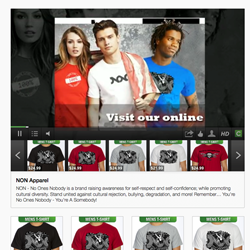 Cinsay continues to develop new technologies that will keep the company competitive in the rapidly evolving social and ecommerce sectors.
Austin, TX (PRWEB) July 09, 2014
Cinsay, the leader in video commerce technology for web and mobile, has been granted and has acquired a total of seven separate U.S. patents supporting the company's principal technologies for social video commerce. The patents are key components to Cinsay's business model of delivering sharable, syndicatable videos with built-in ecommerce, donations, couponing and lead generation features.
Since launching the full platform in 2009, small to medium businesses (SMBs), enterprise customers, nonprofits, sports teams and musical artists have been benefitting from employing the technology. Cinsay's Video Smart Store™ (VSS) platform can contribute to conversions higher than traditional marketing and static ecommerce sites. A portion of the player's functionality is detailed in the below abstract for Cinsay's newest patent.
Patent No. 8,769,053 for a "CONTAINERIZED SOFTWARE FOR VIRALLY COPYING FROM ONE ENDPOINT TO ANOTHER"
Abstract: A method, system and computer readable medium include objects with media content. The method includes receiving, at one or more servers, a request for the media content to be displayed at an endpoint. The method includes identifying information about an environment associated with the endpoint. The method includes identifying a set of objects to include in a container for the media content based on the information identified about the environment. At least one of the objects includes program code for completing a transaction during display of the media content. Additionally, the method includes sending, by one or more servers, the set of objects to the endpoint.
This approach allows a container to be housed within various types of web displays. This system allows distributing and syndicating transacting video-based ecommerce stores. The containers can be housed within a single web page, blog page, social media page, or email. They allow end users on the Internet to view product details and complete related transactions without having to leave the pages or Internet locations they are visiting. Containers can be dynamically assembled and can support a wide range of customizable behaviors.
Christian Briggs, Cinsay's founder and CEO stated, "Cinsay continues to develop new technologies that will keep the company competitive in the rapidly evolving social commerce sectors. Our extensive portfolio of patents and other intellectual property places the company as the world's leader in syndicatable/peer to peer video commerce IP and provides increased value to investors and cutting-edge technologies to businesses."
About Cinsay:
Cinsay has created a next-generation e-commerce, viewer interactive, video-based platform for any size business. Cinsay's technology enables anyone to sell products, display printable coupons, capture donations, and generate leads all inside its patented Smart Store technology. Cinsay's patents include: U.S. Patent Nos. 8,533,753, 8,312,486 and 8,549,555 for interactive Internet-based video applications; additional patents pending.
Forbes named Cinsay one of America's Most Promising Companies while eTail Conferences named Cinsay a Rising Star in innovation for 2012. Red Herring named the company one of Top 100 Companies in North America for 2014. Cinsay's eCommerce video-based platform can be used for any individual or business. For more information about Cinsays technology, video commerce solutions and available plans, please visit Cinsay.com.
Cinsay's entertainment and SMB sites include:
MyCinsay.com
CinsayOnDemand.com
AndrettiTV.com
ShopAndretti.com
RisiTV.com
ShopRisi.com
ShopMarioA.com
SureToneLive.com