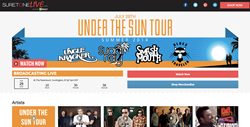 This live event continues to demonstrate how the entire global music industry can monetize content online and inside social media while allowing fans anywhere in the world to interact directly
Austin, TX (PRWEB) July 29, 2014
Suretone Entertainment announces an exclusive live HD stream for the summer's biggest music concert tour series, Under the Sun. The global broadcast will be streamed live July 29, beginning at 6:00 P.M. Eastern with pre-show interviews and back-stage access live from the Paramount Theater in New York. Fans can watch the performance via SuretoneLive.com and Cinsay's Smart Store™ video, which will be linked from the individual artist's Facebook fan pages.
The 4-band set webcast will be free within the US and offered as an iPay-Per-View (iPPV) for international viewers. The lineup will feature Grammy-winning and Billboard topping musical artists, Blues Traveler, Sugar Ray, Uncle Kracker and Smash Mouth.
This exclusive event will not only showcase the best of 90's rock & roll, but will also continue to launch the next evolution of online music entertainment, seamlessly bundled with social sharing and eCommerce. Viewers will have special opportunities to purchase apparel and collectible merchandise from members of the bands inside the video stream.
"Cinsay is very excited to be part of this historic live concert event. This marks the company's third live show following the huge success of streaming the Mick Fleetwood Blues Band as our most recent webcast," said Christian Briggs, founder and CEO of Cinsay. "We were able to demonstrate that Cinsay's multi-patented technology increased in-video conversions to 6.8% - blowing out traditional commerce performance and providing artists with real revenue," Briggs added.
During the live concert, fans can also share the video and embed it on their own Facebook feed and tumblr pages. The shared video will also carry along the merchandise and links enabling others to have the ability to instantly purchase exclusive merchandise – all inside the video and without having to 'link out' or leave the virtual concert experience. Blues Traveler is just one of the bands featuring exclusive limited edition signed items from the tour including, autographed drum heads, set lists and more. These will also be available inside the live video for purchase.
"This live event continues to demonstrate how the entire global music industry can monetize content online and inside social media while allowing fans anywhere in the world to interact directly. SuretoneLive.com powered by Cinsay's 'content to commerce' platform is the only complete answer", said Jordan Schur, Co-Founder of Suretone Entertainment.
Earlier this year, Cinsay and Suretone Entertainment announced the formation of SuretoneLive.com and the response from the partnership continues to be extremely positive from artists, fans and advertisers within the music industry. Also, Cinsay's subsidiary, Cinsay On Demand, creates quality branded apparel and merchandise for Suretone Entertainment and SuretoneLive.com and fulfills individual orders 'on demand' while handling the entire logistics of inventory, pick, pack, shipping and handling.
SuretoneLive.com and Cinsay will be announcing additional upcoming live events as more artists join the premiere broadcast network. Music fans will be able to choose from various live performances hosted in famous venues across North America as well as share the music with friends and family via Facebook, twitter, Tumblr and on other social media sites. Each event will also showcase exclusive merchandise from those participating artists including some one of a kind collectibles, which will be available only on SuretoneLive.com
Details of SureToneLive.com Under the Sun Concert Event:
What: The Under the Sun summer concert series feat. Sugar Ray, Blues Traveler, Uncle Kracker and Smash Mouth.
When: Tuesday, July 29, 2014 at 6:00 PM EST
Where: Paramount Theater, NYC and at live SureToneLive.com
Hashtags: #SureToneLive #UnderTheSunTour2014