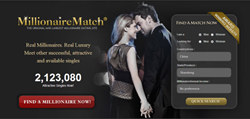 Los Angeles, California (PRWEB) June 30, 2014
MillionaireMatch.com counselor, Steve Capser, was recently interviewed on a talk show known as 'Bare This & That,' in which he spoke freely about online dating and how it had revolutionized the world of dating due to the benefits that online dating sites offer.
Steve stated that comparing to a couple of years ago when online dating wasn't considered mainstream at all, people used to avoid talking about it in public, whereas today, there are millions of people who have attempted to find their match in the online environment.
As dating websites have grown, their members have increased as well. With this in mind, there are thousands of sites designed to encourage others to try online dating. While some may be similar, some are only open to certain social classes, genders, or dating preferences. Many even perceive online dating as a marketplace where you can see hundreds of potential matches and choose a person or more from the list.
However, regardless of the fact that online dating represents an aspect of life that just about everyone has heard about, there are certain reasons explaining how the sudden increase in users was actually possible. Due to the fact that the world's busy and people have less free time, many believe that online dating may be able to solve their issues. As it is easier to find potential matches, all a person has to do is to have a chat with whomever he finds attractive and later go out on a date if everything works out as planned.
Millionairematch.com is a millionaire matchmaker that specifically caters to successful men and women from all around the world. As both genders have everything that is needed today in order to become wealthy, dating has become a bit harder, especially for those who are living wealthy and successful lives, mainly due to the lack of time present.
In conclusion, online dating has become and is continuing to become more and more popular with people of all ages, races, and nationalities, thus ensuring that everyone will face an easier task when trying to find their true love. MillionaireMatch.com is yet another well-built dating site, but what makes it different from the others is the fact that it is specifically designed for successful people from all around the world.
To learn more about this dating site, visit: http://www.millionairematch.com/