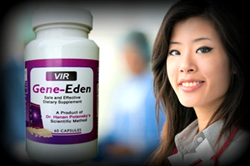 HSV-1 infects the brains of 90 percent of adults. We therefore recommend that infected individuals take Novirin or Gene-Eden-VIR. - Mike Evans, polyDNA
Rochester, NY (PRWEB) July 01, 2014
Research linked the herpes virus (HSV-1), which normally causes cold sores and fever blisters, to Alzheimer's disease (AD). Dr. Ruth Itzhaki and her colleague, Dr. Wozniak, wrote that there is "evidence for a major causative role of a common virus, herpes simplex virus type 1 (HSV1)" in the development of Alzheimer's. (See the Journal of Alzheimer's Disease, from 2008) (2) Dr. Itzhaki and Dr. Wozniak are from The University of Manchester, in the U.K. Dr. Piacentini and colleagues agreed with the overall findings of Dr. Itzhaki. They write that "among the 'environmental' risk factors, persistent brain infections, particularly those induced by herpes simplex virus type-1 (HSV-1), seem to play a key role in AD pathogenesis." (See Frontiers in Pharmacology, from May 7, 2014) (3) Dr. Piacentini and colleagues are from the Institute of Human Physiology, Medical School, Università Cattolica del Sacro Cuore in Rome, Italy.
"Dr. Itzhaki revealed in her article entitled Herpes Simplex Virus Type 1 in Alzheimer's disease: The Enemy Within,' that HSV-1 infects the brains of 90 percent of adults. We therefore recommend that infected individuals take Novirin or Gene-Eden-VIR." - Mike Evans, polyDNA
The formula of Novirin and Gene-Eden-VIR was tested by Hanan Polansky and Edan Itzkovitz from the CBCD in two clinical studies that followed FDA guidelines. The studies showed that the Gene-Eden-VIR and Novirin formula is effective against EBV and other viruses. The clinical studies were published in the peer reviewed, medical journal Pharmacology & Pharmacy in September 2013, the first in a special edition on Advances in Antiviral Drugs. Study authors wrote that individuals infected with (certain viruses) reported a safe decrease in their symptoms following treatment with Gene-Eden-VIR. (4) The study authors also wrote that, 'We observed a statistically significant decrease in the severity, duration, and frequency of symptoms.' (4) In addition, this natural antiviral was recently proven to reduce mental and physical fatigue in a post-marketing clinical study that followed FDA guidelines.
Both products can be ordered online on the Novirin and Gene-Eden-VIR websites.
"Alzheimer's disease (AD) is a neurodegenerative disorder characterized by progressive decline in cognitive functions leading to memory loss and dementia (2)." Herpes is linked to the disease through a process described as follows: "Herpes simplex type 1 virus is a neurotropic double-stranded DNA virus that primarily infects epithelial cells of oral and nasal mucosa (3)." Once a person is infected, "The virus undergoes lytic replication; the newly produced viral particles may enter sensory neurons and, by axonal transport, reach the trigeminal ganglion where usually establishes a latent infection. The virus undergoes periodic reactivation cycles in which the newly formed viral particles are transported back to the site of primary infection through the sensory neurons, causing the well-known clinical lesions (i.e., cold sores and blisters) (3)." In other words, the virus starts replicating vigorously. Then the virus enters sensory neurons and established a long-term latent infection in a facial nerve. From time to time, the virus reactivates and causes cold sores at the end of the nerve, which is around the mouth.
The virus doesn't stop there, however. The weakening of the immune system, which occurs during different events, such as stress, taking certain drugs, and also aging, only serves to increase the damage the herpes virus causes. In addition, "Several studies have been performed to assess the presence of HSV-1 in the brain of AD patients…other studies have demonstrated that HSE affected the same brain areas involved in AD in humans as well as in rodent experimental models … (and other studies)… reported that a high proportion (about 60%) of brains of elderly people contained latent HSV-1 DNA, especially in the CNS regions critically involved in AD (3)." In simple terms, AD patients have the herpes virus in their brains. Specifically, the virus is located in the damaged parts of the brain.
Large numbers of infected individuals will go on to develop neurological symptoms.
This is possible since, as noted above, HSV-1 establishes a latent infection. It sets up residence in nerve centers. When the latent virus reactivates, neurological conditions may develop.
polyDNA therefore recommends that HSV infected individuals take Novirin or Gene-Eden-VIR. The formula of these natural antiviral products was designed to help the immune system target the latent HSV-1.
A second clinical study showed that Gene-Eden-VIR and Novirin formula decreased physical and mental fatigue. (See Pharmacology & Pharmacy, from March, 2014) (5).
To learn more about Novirin, visit Novirin and about Gene-Eden-VIR, visit Gene-Eden-VIR.
All orders of these products are completely confidential, and no information is shared or sold to any third party. Privacy is assured.
References:
(1) Bu XL1, Yao XQ, Jiao SS, Zeng F, Liu YH, Xiang Y, Liang CR, Wang QH, Wang X, Cao HY, Yi X, Deng B, Liu CH, Xu J, Zhang LL, Gao CY, Xu ZQ, Zhang M, Wang L, Tan XL, Xu X, Zhou HD, Wang YJ. A study on the association between infectious burden and Alzheimer's disease. Eur J Neurol. 2014 Jun 9.
(2) Itzhaki RF1, Wozniak MA. Herpes simplex virus type 1 in Alzheimer's disease: the enemy within. J Alzheimers Dis. 2008 May
(3) Piacentini R1, De Chiara G2, Li Puma DD1, Ripoli C1, Marcocci ME3, Garaci E4, Palamara AT5, Grassi C1. HSV-1 and Alzheimer's disease: more than a hypothesis. Front Pharmacol. 2014 May
(4) Polansky H, Itzkovitz E. Gene-Eden-VIR Is Antiviral: Results of a Post Marketing Clinical Study. Pharmacology & Pharmacy, 2013
(5) Polansky H, Itzkovitz E. Gene-Eden-VIR Decreased Physical and Mental Fatigue in a Post Marketing Clinical Study That Followed FDA Guidelines; Results Support Microcompetition Theory. Pharmacology & Pharmacy, 2014
polyDNA is a biotechnology company that develops dietary supplements using the unique scientific method developed by Dr. Hanan Polansky, which is based on Computer Intuition.
In addition to his unique scientific method, Dr. Polansky published the highly acclaimed scientific discovery, called Microcompetition with Foreign DNA. The discovery explains how foreign DNA fragments, and specifically, DNA of latent viruses, cause most major diseases.
polyDNA developed Novirin, an antiviral natural remedy that helps the immune system kill latent viruses.