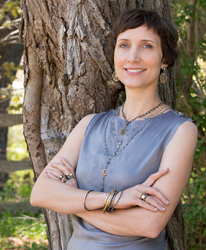 Creating fabulous pieces of jewelry to capture the perfect memory and enhance your individuality and confidence.
Boston, MA (PRWEB) June 30, 2014
Handcrafted Jewelry and Wearable Art by Jenne Rayburn, a Boston-based jewelry and accessories designer and artist, will join the Sign of the Dove in Chestnut Hill, MA. The Sign of the Dove was founded in 1972 by a small group of artists and is the oldest artist cooperative in New England. Local handmade jewelry is available at the gallery in The Mall at Chestnut Hill.
Rayburn will be introducing new work from her Ark Dreamings Collection of Sterling Silver and Gold Etched Jewelry. "Inspired by ethnic handcrafts and thousands of years old ritual decorations, I have created new unique jewelry designs, incorporating symbols and folklore," says Rayburn. "Antique and modern at the same time, I am really pleased with how they have come together with my own contemporary aesthetic."
The Sign of the Dove Gallery, in The Mall at Chestnut Hill, is run entirely by artists, and offers a broad and exciting range of locally handcrafted work to choose from. Savvy shoppers who love to shop local and handmade have the opportunity to buy from local artists for occasions such as birthdays, anniversaries, and year-round special events! In November and December for gift giving, an additional group of artists offer more seasonal items and holiday ornaments.
Sign of the Dove Gallery
The Mall at Chestnut Hill
199 Boylston St. (Route 9), Chestnut Hill
617-965-0167
http://www.signofthedoveco-op.com
Visit Jenne Rayburn's collections http://www.jennerayburn.com
Visit Jenne Rayburn on Facebook http://www.facebook.com/Jenne.Rayburn
About:
Jenne Rayburn is a Boston-based jewelry/textile artist who also studied interior design and architecture, and her work explores the convergence of architecture, design, technique, and identity. Jenne is known for her designs combining antique jewelry and textiles, findings and components, with contemporary design. It is her hope that the wearers of her pieces will find joy in a delightful artistic statement, and also something that enhances their individuality and confidence. Her work is carried in local galleries and online. Please visit http://www.jennerayburn.com for Jenne Rayburn's online flagship store. For wholesale information, please visit jennerayburn.com/wholesale.com