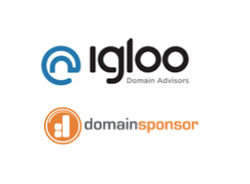 Boston, MA (PRWEB) June 30, 2014
Igloo.com, a leading Domain Brokerage & Consultancy Firm, announced today that, following the recent acquisition by Rook Media of the business and domain name portfolio of DomainSponsor, Igloo.com and Rook Media have entered into a long term exclusive agreement to provide brokerage and related services.
For many years the DomainSponsor portfolio has been regarded as one of the largest quality group of names that were not seriously marketed or available for purchase. This valuable collection of domain names such as Trick.com, DSS.com, FreeSoftware.com, UsedComputers.com, LawOffices.com, GiftRegistry.com and thousands more.
Rook Media CEO Ash Rahimi explained "We are committed to both growing our portfolio and also to finally make the majority of these names available to potential buyers. We selected Igloo due to their positive reputation and amazing success in the brokerage space with both premium names and large portfolio sales management."
The deal provides for the creation of a joint Igloo DomainSponsor marketplace, in addition to the exposure of names across various approved industry sales platforms. "These days it's harder and harder to find an iconic, easy to remember name that also happens to be available," stated Tom Lowery in a recent Huffington Post article. Good domain names in legacy TLDs (.com, .net, .org, etc.) are getting harder to find and seeing the DomainSponsor portfolio brought to market provides additional quality inventory and exciting new investment and branding opportunities.
"The Igloo team is proud to be entrusted with this portfolio and will welcome conjunctional arrangements with additional select brokers and partners" said Tessa Holcomb, Igloo.com Co-Founder and CEO. "This deal enables us to professionally market and sell names never before available and we are truly excited about the opportunity."
The project will be led and managed by Igloo Director of Sales & Acquisitions, Amanda Waltz and will embrace both Igloo and DomainSponsor personnel. Please contact Amanda directly with at Amanda(at)igloo(dot)com or +1508 254 5684 with any inquiries.
About Igloo.com
Igloo.com assists both businesses and domain owners in the overall planning and execution of their domain strategy. We specialize in domain acquisitions, branding needs, and sales for our clients and help companies stake their claim online, rebrand, or simply acquire descriptive domain names to help set them apart from their competition. With over $100 million in domain and website transactions behind us, Igloo's results oriented team is unparalleled in experience, knowledge and most importantly, results.