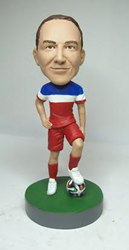 You can create a cool doll that looks just like you and your favorite national team.
Chicago, IL (PRWEB) June 30, 2014
Once every four years, the world cup takes the world by storm. Everyone seems to hit the pause button on life to concentrate on watching matches for over a month. They travel from all over the world to watch the games, which right now is Brazil for the 2014 World Cup. Those who can't make it find other ways to celebrate.
One way people are showing support for their national team is by purchasing custom bobblehead dolls to memorialize the occasion. Whoopass Enterprises, who have made thousands of custom bobbleheads over the past 10 years, have reported a sharp increase in the number of soccer player versions of their product ordered. Most of those ordered are asked to mimic the jerseys of a national team.
These bobbleheads are hand-painted by artists to look like photos that are provided by customers. Customers upload a few photos of themselves and describe how they would like their doll to look (in this case, describing or showing pictures of the soccer jerseys), and then an artist creates a real bobblehead in their likeness.
"We've seen a huge jump in sales for our male soccer bobbleheads," explained Darby Rosenfeld, VP of Operations of Whoopass Enterprises. "And they're coming out great. You can create a cool doll that looks just like you and your favorite national team."
Darby said the biggest seller by far is the US National Team, although there have also been seen several orders for Brazil, Germany, Mexico, and Argentina.
"Typically, our products are purchased as gifts," continued Rosenfeld. "For fathers day, wedding gifts, retirements, and occasions like that. But a lot of these orders are just fans who are ordering them for themselves."
Unlike competitors, Whoopass Enterprises' bobblehead dollars stand 8.5-9" talls and can be processed in less than two weeks. They offer in-process proofs that allow you to track to progress of your doll and approve the design, and have over 10 years experience with thousands of satisfied customers.
For more information, or to see their full line of custom bobbleheads, visit http://www.WhoopassEnterprises.com today.