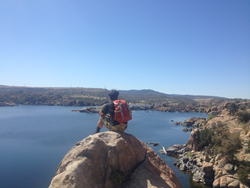 Now I see a young man who is grown up and wants to re-build a relationship with his family.
Flagstaff, AZ (PRWEB) June 30, 2014
With the love of his family and support of the Back2Basics long-term addiction treatment program in Flagstaff, AZ, Ryan L. of Omaha, NE just celebrated his 21st birthday and one year of sobriety.
Part of what makes Ryan's story memorable is his family's genuine love and drive to save him comments Danny Smith, Ryan's interventionist and co-founder of Alchemy Intervention.
"In so many ways we feel powerless over our family member's addiction. The way that Ryan's mom took a stand for her son's sobriety is so commendable," Smith said.
Ryan was a notable athlete in high school with opportunities to pursue football at the collegiate level until he befriended the wrong crowd.
"I began doing just enough to get by," said Ryan. "I ended up getting into a local university back home, and went because that's what I thought I was supposed to do."
Life spiraled out of control for Ryan for the next year-and-a-half. He spent his 20th birthday under the influence of narcotics, and feeling very alone. "I felt bankrupt in all areas of my life spiritually, emotionally, physically," he said.
Ryan's mom, Deb L. found Back2Basics Outdoor Adventures online one year ago, and sensed it was the right place for her son.
"When Ryan left us he was angry and had zero self-confidence," she said. "Now I see a young man who is grown up and wants to re-build a relationship with his family."
Back2Basics is a six-month residential addiction treatment program that balances outdoor adventures (hiking, camping, kayaking, snowboarding, surfing), traditional individual and group counseling, dietary planning, college courses and other life-skill building.
"I think every treatment provider knows that longer length-of-stay [in treatment] creates a higher success rate," said Smith. "Most programs promote 30-day treatment programs because it's so marketable, but [Back2Basics founder,] Roy [DuPrez] is going after what's right, not what's easily marketed. He's unique in living the truth."
Ryan spent six months in recovery, and then another six months at Back2Basics in transition called "Beyond the Basics," which assists residents as they assimilate back into the real world, newly sober – job hunting, mentoring other residents at Back2Basics, or higher education at Northern Arizona University or Coconino Community College.
In less than two weeks Ryan will be going back home to pursue the family business. "Thanks to B2B, I now have the foundation I need to figure things out for myself back home."