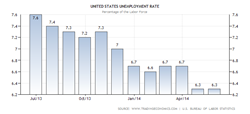 Any fall in home prices would be a great buying opportunity for first time home buyers.
Chicago, IL (PRWEB) June 29, 2014
Peoples Home Equity is anxiously waiting for next week's many important data points from housing to unemployment.
On Monday morning, June 30th, pending home sales will be released by the National Association of Realtors. The results will be immediately posted on TradingEconomics.com for users to easily compare to previous months. Pending home sales were last seen as increasing 0.4% in April, but there are expected to increase 1.2% for April. Pending home sales are key indicator regarding the health of the real estate market. Sale fell off a cliff in the winter 2013 through 2014 but have since increased. Since Peoples Home Equity saw an explosion growth in weekly home sales throughout May, the lender thinks pending home sales could be reported as better than the expected 1.2% rise.
On Friday morning, July 4th, TradingEconomics.com will post June's unemployment rate announcement from the U.S. Bureau of Labor Statistics. Unemployment is expected to remain changed as it has been for April and May at 6.3%. As long as rate does not increase more than 0.1% the market should be satisfied.
Given that GDP growth showed a revised figure of -2.9% in the first quarter, results from both pending home sales and Friday's unemployment rate will be critical for confirming if the country is on track for growth in the 2nd quarter. Peoples Home Equity expects pending home sales to show a higher than expected increase for May with a relatively unchanged unemployment rate. The unemployment rate is an important indicators as it is inversely proportional housing and rent demand.
If these announcements are negative, the market may see a fall in home prices based on negative sentiment. Any fall in home prices would be a great buying opportunity for first time home buyers, especially when considering the recent decline in mortgage rates! To prepare, for a property purchase first time home buyers should get themselves pre-approved for a home loan. This can be done quickly on the PeoplesHomeEquity.com website in their "Home Loan Quick Qualifier" field.
Contact a Peoples Home Equity loan officer today at: 262-563-4026