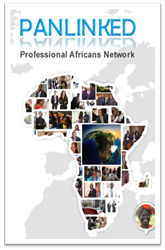 It's time to connect our global capacity.
Rockwall, TX (PRWEB) July 17, 2014
On June 16, 2014, the first HUB for African Professionals and Students on the continent was launched. The website: http://www.PANLinked.com was specifically initiated to address the ongoing economic and developmental challenges on the continent of Africa. While there are untapped resources on the ground, executive level opportunities are offered to expatriates because much of the skilled professionals currently reside and work outside of the continent. Whereas, on June 16, 2014, PANLinked launched its website to provide a centralized platform with a view to ensuring brain regain.
PANLinked recognizes the continuous flow of investment opportunities in all developmental sectors on the continent. New foreign direct investment in Africa is projected to reach $150 billion dollars by 2015, creating 350,000 capital intensive jobs annually.
Our website is a demographic-focused network platform that targets the available capacity and untapped resources on the continent and the Diaspora to ensure that skilled African professionals have access to growing opportunities on the continent.
We extend an invitation to all African Professionals on the continent and the Diaspora to visit the website http://www.panlinked.com, join by establishing a professional profile, connect with other colleagues, talent acquisition specialists, and the change makers from the continent, and engage the endless possibilities with individuals, groups, or business partners to cultivate and nurture sustainable and progressive development on the continent of Africa. Welcome to the New Africa. Join today. It's Time.
For more information contact:
Dorothea Sammur
Managing Partner
1245 Potter Avenue
Rockwall Texas 75087
E-mail: dorothea(at)panlinked(dot)com
Website: http://www.panlinked.com