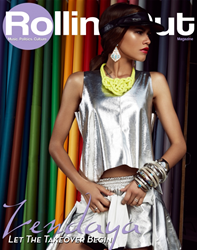 I was very intrigued by acting and everything that world had to offer.
Atlanta, GA (PRWEB) June 30, 2014
Zendaya never loses focus. The actress, singer and dancer poses with the confidence and grace of a seasoned model during an exclusive photo shoot with rolling out at McCadden Space Studio in Los Angeles. Effortlessly, she portrayed an array of emotions with her body and facial expressions — a skill that often takes years for even the most prominent celebrities to perfect.
Zendaya's first introduction to the arts came via the California Shakespeare Theater in Oakland, California. Before the age of 10, she found herself immersed in the literary works of William Shakespeare.
"My mom worked at the California Shakespeare Theater when I was very young," Zendaya reveals to entertainment editor Amir Shaw. "I grew up around theater. I was that weird 8-year-old that was into Shakespeare and wanted to sit and watch rehearsals for hours. I was very intrigued by acting and everything that world had to offer. I think that's when I first realized I had a passion for theater."
Her work in the theater led to her getting the lead role in the Disney show, "Shake It Up!" After three years on the award-winning show, Zendaya signed on as the lead in the new Disney TV movie, Zapped.
Visit rollingout.com to read the interview in its entirety. Be sure to check out the exclusive photo shoot and video footage with celebrity photographer DeWayne Rogers.
About rolling out Magazine:
Rolling out, the nation's largest free urban weekly, is a digital and print magazine that focuses on the black experience in response to entertainment, politics, fashion, culture, sports and lifestyle points of interest. Headquartered in Atlanta, rolling out is positioned as the voice for the African American experience, using its newspaper as a platform in the marketplace to express urgency for education reform, and to document entrepreneurial endeavors and other relevant issues in the Diaspora. For information on rolling out, please log on to rollingout.com.