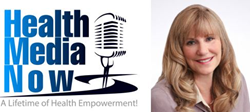 We all want real solutions that can be applied to everyday life.
Costa Mesa, CA (PRWEB) June 30, 2014
Today, Health Media Now Radio announced that its successful "It's All About Being Healthy" weekly radio show is experiencing an increase in the number of listeners. The show will continue to advocate for healthier lifestyles and offer listeners a fresh perspective on health issues and current news. It is no secret that a growing number of doctors have been using a technique called "motivational compliance". Doctors receive training in how to get positive results in as little as five minutes. Patients who are non-compliant in taking care of their health are asked by their doctors for approval to ask questions. Open-ended questions are used for better communication outcomes.
"It's All About Being Healthy" invites national and international guest experts to discuss current trends and their experiences in their given fields. "We all want real solutions that can be applied to everyday life," states Denise Messenger, the show's host and the award-winning author of "Got Cancer? Now What?" Show guests are physicians, scientists, authors, educators, speakers, nutritionists, counselors, consultants, and fitness experts.
The show opens with the guests introducing themselves to the listeners, providing an overview of their lives, and explaining how they got started on their professional paths. "It really adds a whole new dimension to radio because their passion for what they do shines through. Learning about new discoveries in health and wellness is critical in today's fast-moving environment of new technologies and research," stated Denise. The show fits right in with today's patient compliance issues by sharing new, useful, intelligent, and forthcoming information with its listeners. Patients who have difficulties with health compliance find the answers they are looking for to accomplish their health goals, and communication between doctors and patients often improves. The show's format motivates people to change their lifestyles for the better.
Denise and the show's Producer and Media Relations expert, Lisa Lynn, invite listeners to participate in what the show calls "The Learning Conversation" both on-air when they call into the live show and through social media. Health Media Now Radio's It's All About Being Healthy airs on Wednesdays at 4:00 p.m. PST and 7:00 p.m. EST. It can be heard live or via podcast at http://www.blogtalkradio.com/healthmedianow. For a complete list of show guests and to listen to previous shows, go to: http://www.healthmedianow.com.