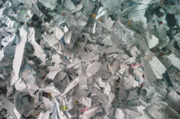 City leaders are placing a link to our site on their city website to make it convenient for residents to shred their papers.
Wixom, MI (PRWEB) July 01, 2014
My Shredding Services is proud to be working with numerous cities located in the Greater Detroit area to prevent identity theft. Their website offers free quotes for on-site shredding in the state of Michigan and all throughout the continental United States.
Many large, well-known organizations have experienced data breaches in the last two years, even big companies like Neiman Marcus and Target. This has prompted officials to issue frequent warnings about identity theft, including tips on prevention. Surveys show that the majority of residents still do not shred sensitive documents. They simply throw them in the trash, making themselves an easy target for identity theft.
Large and small businesses do this as well. In the rush of a busy day, all sorts of papers that show company or customer information are thrown into the trash without shredding. This can leave an organization open to law suits and damage their reputation in the business community. New Department of Consumer Protection guidelines outline all the items which should be shredded and make it clear that businesses have a duty to protect their customers at all costs.
Shredding important documents is essential, but many people still believe it's too expensive or too much trouble. As a result, individuals will try everything from soaking documents in the bathtub to burning papers in the backyard, which is illegal in most cities.
MyShreddingServices.com CEO had this to say, "We are reinforcing our efforts to get local city leaders more interested in shredding. Our website provides a number of important tips for securing sensitive documents and many city leaders are placing a link to our site on their city website to make it convenient for residents."
My Shredding Services offers free quotes from local shredding companies. Protecting the identity of family members and a business is affordable and convenient with shredding. Shredding companies recycle their paper, so it keeps waste out of local landfills and saves trees. Many companies now offer mobile shredding to make it even more convenient. In addition, professional shredders will remove all binding clips and paper clips from stacks of papers so that employees don't have to waste time doing this.
About My Shredding Services
MyShreddingServices.com is a Michigan-based company that offers free quotes from shredding businesses in each local community. Their website provides good tips and information about how an individual or company can protect their information from being stolen by thieves. For more information, visit: http://www.myshreddingservices.com/.
City leaders who would like to place the link on their website can visit: http://www.myshreddingservices.com/yc.html.
References: http://www.ct.gov/DCP/cwp/view.asp?a=1629&q=410714