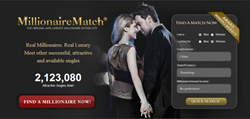 Los Angeles (PRWEB) August 06, 2014
For many, the question of whether to marry for love or money is a moot topic. Love normally wins because money is normally tight. But when you're a millionaire, things change. Money is certainly a factor. In June, the millionaire dating site posed a question on this hot topic to its rich members, "Given the choice, would you marry for money or for love?"
Marry a very rich prospect without love or marry the love of their life where they both can build their future together. Which one do they prefer?
Here's how the members voted.
23.9% of Responses: Money is important
Some members think that people won't be able to buy their favorite things or live the life they want without a certain amount of money. They believe true love or friendship will only lead to sadness without money to ensure successful lifestyle. Money makes people happy because they can afford these things. "Talking from experience, one of the leading reasons for divorce or separation is the never ending debate about finance or misunderstanding about lack of money," commented by an anonymous member.
76.1% of Responses: Money is not everything
These voters think that money cannot buy happiness, love or time. A happy, fulfilling, and successful marriage where the couple grows together in a loving, understanding relationship while caring for each other for a lifetime is what the majority of our members voted for.
"I think love and care is more important. Money can provide food and other stuff but money will never make anyone permanently happy" another anonymous member commented.
The result about "Date A Millionaire, For Love or Money?" from MillionaireMatch.com shows that money is important, but love is more important for a lifetime relationship.