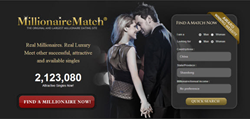 Los Angeles (PRWEB) July 05, 2014
There's travel and then there's traveling when you're a millionaire. First class and private jets are totally different from coach. Millionaires travel a lot. They have the money to go just about anywhere they want to go. A good vehicle will bring comfort and pleasure to the journey. Catering to this market of travelers are many luxury travel ways have been created just for the rich and famous people who can afford it.
In addition to luxury airlines, luxury trains, have become one of the highly sought after travel ways that have come to public eyes. In June, MillionaireMatch.com listed the top five luxury trains and had its members vote for their favorite.
And the winners are:
Getting the number one vote is the Orient-Express. It gets 32.1% of votes. It is "extremely comfortable and relaxing." "You won't think you are on a train," some of members commented.
Number two goes to The Golden Eagle Trans-Siberian Express. It gets 27.4% of votes. "Very beautiful sights and views," most voters expressed this comment.
Number three goes to The Royal Scotsman. It gets 26.1 % of votes. It's five-star dining and wine-pairing offer clients a wonderful memory of their train ride.
Number four goes to The Danube Express. It gets 7.9% of votes.
Last but not least, The Shangri-La Express gets 6.5% of votes.
Next time you have a trip, consider a luxury train ride, especially if you're a millionaire.